[Ten years ago the U.S. Open came to Bethpage Black, and that seemed close enough for me to cover it, especially as a young Vermonter had managed to qualify for one of the toughest tests in professional golf. Here's a look back.]
[July 6, 2009]–As Lucas Glover gutted it out to hang onto to a 4-under-par victory at this year's rain-soaked U.S. Open, a photographer friend of mine said, "What can I do with this guy? He has as much personality as the wall."
Glover's ingratiating victory speech, marred only by his admission of rooting for the New York Yankees, helped folks realize that he's a genial as well as a deserving winner. Delivering David Letterman's Top Ten the night after sealing the victory didn't hurt either.
The No. 1 Top Ten Things Lucas Glover Would Like to Say After Winning the U.S. Open: "Even I have never heard of me."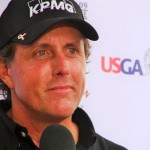 It wasn't any of the storybook finishes many fans were hoping for, not when Phil Mickelson was in contention until the end, a favorite to begin with, but with the added sentiment from the recent acknowledgement of his wife's breast cancer.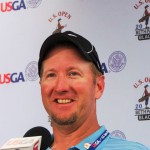 Then there was David Duval, the one-time No. 1 player in the world, who has been lost in the wilderness for a decade. Duval's effort was brilliant, and one can only hope it represents a real comeback for one of the brightest players on tour. Duval's commentary was right on about the Open's weather-induced start-stop quality: "It's so screwy here I hardly know what day it is. I go play one hole and then I do it all over again. It's 'Groundhog Day' out here."
While there for the finale, I largely turned my back on the marquee players for the rest of the tournament to keep an eye on St. Johnsbury native Trevor Murphy, who said, "Golf is still kind of new to me," to about a half-dozen reporters who had clustered around him at the conclusion of the second round. The reporters had gathered because Murphy had finished his round and made the cut with a flourish, with birdies on the three finishing holes at Bethpage Black.
This was no easy task, as many seasoned pros who didn't make the cut could attest, including major winners Ernie Els, Padraig Harrington, David Toms, Zack Johnson or Justin Leonard.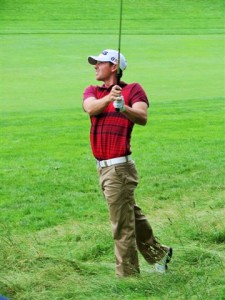 Playing golf is really nothing new to Murphy; he picked up the sticks at age eight and was a fixture around the course at St. Johnsbury, Vermont, from then on, although it appeared for a goodly while that he would make more of a mark with downhill ski racing.
Murphy attended Burke Mountain Academy and skied with future two-time World Cup champion Lindsey Vonn in numerous European events before a torn ACL ended that career path. (It was also Anterior Cruciate Ligament damage that sidelined Tiger Woods last year.)
After high school Murphy attended a golf academy in Hilton Head, South Carolina to sharpen up his game, further honed at the University of North Carolina at Charlotte. Locally, Murphy capped his amateur career in Vermont by winning the state Amateur title in 2007 for the third consecutive year, that tournament played at the Brattleboro Country Club.
So it's really only in the world of professional golf that the 24-year-old might still be a bit green. He joined the pro ranks last year, playing on The Gateway Tour in Arizona where he and his wife, Amanda, are just moving into a new home. But I was impressed by his poise and confidence amidst the Open's dazzle and drizzle.
The only real crack in his otherwise placid countenance came on Sunday, six holes into his fourth round–playing with former U.S. Open champion Geoff Oglivy. After the horn sounded at 8 p.m. to signal the close of play at the completion of the hole, Murphy walked off with a triple bogey and could barely contain his disgust.
With the last round played on Monday, Murphy was basically wrapping up eight days on Long Island when he bogeyed the final hole for an 80, ten-over par.
"I'm tired," he said afterward, but he was also a little more philosophical. "I'm a little disappointed in that the last two rounds overshadowed the first two, but all in all, if someone had told me, 'You can come here, make the cut, but then play poorly,' I still would have taken that."
His competitive nature was a bit bruised, but perhaps toughened: "It was mentally tiring out there, and it's hard to shoot 80 and be happy about it. But, especially from the first two rounds, I learned I can play out here with these guys."
It's certainly a worthy goal, since the scale is, after all, a bit different. For finishing in a tie for 58th place at the Open, ahead only of Fred Funk, Murphy still walked away with the biggest paycheck of his career, $20,630, compared with the $14,400 he earning in winning a Gateway event last August.
The week after the Open Murphy bounced back at the Spring Creek Championship in Virginia (on the former Tarheel Tour, now the eGolf Professional Tour), finishing 13-under in a tie for third and pocketing a $13,500 check.
Blake Gianniny, a friend from the golf academy days, had a bit of a time himself at the Open as Murphy's caddie. Gianniny had hoped to spirit away his caddie bib as a souvenir, but was only able to take the "Murphy" patch that was on it.
"Hang onto it," said Murphy's dad, Steve, who had followed his son around the entire tournament. "Let's hope they'll need it again real soon."