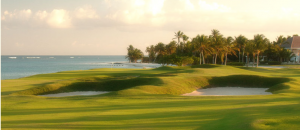 Anyone who has spent time around P.B. Dye knows of his fondness for storytelling – teeing it up with President Clinton is among his favorite sources for material – so Dye's latest declamation may or may not raise eyebrows.  It's that the Dominican Republic is "the Pinehurst of the Caribbean," two golf destinations not generally conflated.
And yes, it's true that P.B., son of legendary golf course architect Pete Dye – avowed sadist to our golfer-masochists – is not a disinterested observer of the golf scene in the D-R, as regular visitors to the destination refer to it.  Dye fils is in the process of creating a new 18-hole layout at Punta Cana and, working with his father, has helped build a half-dozen courses on the island, including the seminal Teeth of the Dog, in 1971, the cornerstone of the D-R-s golf trade.
For all that, the D-R's momentum as a golf Mecca is undeniable, partly in terms of sheer volume – at 18,000 square miles, it presently has two-dozen golf courses and is large enough to support several distinct metropolitan centers and topographical systems – partly in qualitative terms.  The latest step in the maturation process has been to attract development capital and the accompanying use of marquis design talent, with Jack Nicklaus designing two courses to join just-opened Punta Espada, and Tom Fazio cracking the D-R market with a sister layout to Dye's new track at Punta Cana.
Maturity can be expensive, of course, but the D-R manages to remain a comparatively affordable place for a golf vacation.  The exchange rate is generally steady; the driving is done on the right, if sometimes frantically; the populace is as pro-American as you are likely to find these days; and it is less than a two-hour flight from Miami, with non-stop service from Boston, New York City, Newark, Philadelphia, and Fort Lauderdale, as well.
Beginning in the D-R's southwest and moving counter-clockwise:
Guavaberry Golf & Country Club opened in 2002 as part of a real estate development and membership facility.  The course, which hosted some 17,000 rounds in its inaugural year, was designed by Gary Player, a par 72, 7,141 yards, slope 130 from the back tees.  The layout includes a bit of everything, but it adds up to an enjoyable resort-golf experience. Fairways are wide but, given the frequent winds off the Caribbean, the extra space can come in handy.  Sight lines and intended landing areas are generally clear, with the five sets of tees – the shortest is 5,000 yards, slope 115 – judiciously placed to eliminate or add forced carries, not just raw yardage.
Guavaberry is situated in Juan Dolio, a kind of suburb of Santo Domingo, the capital.  With about a quarter of the D-R's eight-million-plus citizens, Santo Domingo may represent the very type of environment you are fleeing; otherwise, its multifaceted attractions include the elegant Zona Colonial, where the city was first settled half a millennium ago; cathedrals like Santa Maria de la Encarnación, which dates to 1514; and myriad chances to sample the best of cocina criolla, the Dominican food that highlights the country's varied ethnic fortunes.
Farther from Santo Domingo on the Caribbean, or southern, side of the island, near its easternmost tip, is Punta Cana Resort and Club, which, flanked by the eponymous international airport, ratchets up the notion of self-containment a notch.   Occupying 15,000 acres, the complex offers a variety of recreational activities, including beachfront horseback riding and a marina, as well as 420 guest accommodations and de rigueur residential real estate.
The golf course, a par 72 of 7,152 yards from the back tees and opened in 2001, seems to validate the axiom that course designs take on the character of their creators, as Punta Cana emulates P.B. Dye's voluble enthusiasm and idiosyncrasies.
Tee markers are painted coconuts, and the railroad ties made famous by his dad have been replaced by cross-sections of palm trees, treated with seawater to prevent rot.  He used colichi, an indigenous, sea shell-like material as a base for some fairways, and chose Seashore Paspalum – a turfgrass that propagates with seawater and requires less pesticides and fertilizers – for its lushness and ease of maintenance.
There are massive waste bunkers, including one that figures prominently in the "risk" part of the risk-reward equation at the 7th, a drivable, dogleg-left par 4 of 326 yards from the tips that just for the hell of it also has 21 pot bunkers.  There's the island green 12th, a par 3 of 146 yards, and a Redanish, long par 3, the 14th, 239 yards.  And there are the 17th and 18th – a 413-yard par 4 and a 574-yard par 5, respectively — both fronting the sea and stippled with mounds and bunkers to add texture and visual appeal.
Next: Punta Espada, Casa de Campo, Playa Grande