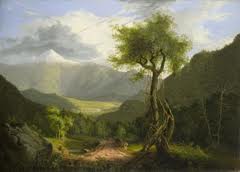 Perhaps because the most prominent chapter in the Catskills' story is the agreeably schlock era of resorts favored by working-class New Yorkers, the region's more refined historical elements often go underappreciated.
The frequently stunning scenery was the inspiration for numerous works by Hudson River School of Painting artists, like the pioneering naturalist John Burroughs, and exemplar Thomas Cole (see left). Wealthy industrialists and their families, including the Rockefellers and the Goulds, built residences and resorts. Washington Irving based his Rip Van Winkle tale on a visit here.
The place has a decidedly funky vibe and Woodstock – for which the rock concert was named, although it was actually held in Bethel Woods, in a neighboring county – is among the most avowedly creative towns anywhere. Indeed, it has attracted artists and musicians, dancers and philosophers, since the early 20th century.
Few of the courses in the Catskills date to the golden age of golf architecture, but one Donald Ross nine-holer that dates to 1919 survives in Palenville, in northernmost Greene County. (The four counties comprising the Catskills are, clockwise from the northeast, Greene, Ulster, Sullivan, and Delaware.) Named Rip Van Winkle Country Club, it has been family owned and operated since 1949 and is worth a visit for several reasons.
For starters, if you're approaching Palenville from the south, which you likely will, the drive itself is part of the fun, with numerous examples of autochthonous weathered yellow stone houses.
The par 36 nine holes – multiple sets of tees can be combined in scores for 18 holes totaling 5,984 yards from the back tees, 5,341 yards from the forward set – makes for a great walk, with ample variety.
Rip Van Winkle may be one of the designs that Ross "mailed in," that is, did not do in-person site work, but the product has many of the master's trademarks, especially push-up greens with aprons that demand imagination; strategically placed mounding with fescue grasses; quasi-moguled fairways currently playing particularly fast due to a regional drought, though the greens were in perfect condition.
And of course there is the routing that manages to provide maximum variety and separation with short green-to-tee commutes, all within a discrete footprint.
Another great thing is that you can swing by for a quick nine — $14 on the weekdays, $17 weekends – but it's recommended here that you go for the bonus nine — $3 and $5, respectively. www.rvwcc.com.
# # #