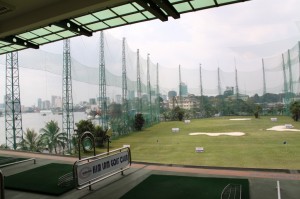 Even after having returned more than a month ago from a year in Ho Chi Minh City, it remains amusing to contemplate that it's the same size, population-wise, as New York City, about nine million. Perhaps that's why the similarities stand out, too. Take Manhattan's Chelsea Piers and Him Lam Golf Club, for example. If all you're looking at is netting and the riverfront beyond, they look pretty much the same.
That is, they're multi-tiered golf driving ranges on the banks of rivers; but their contrasts say much about their contexts. Chelsea Piers, a kind of urban design icon in its own right, is more than a driving range, it's a "sports and entertainment village," with various gym and fitness areas, a skating rink, upscale eateries, golf simulators, and automated ball-teeing equipment.
Him Lam is a mixed-use facility, too, but the only other use is as some apartments with great views of the city and Saigon River, on the floors above the driving bays.
It's tough to pick a favorite. At Chelsea Piers, you can get 90 balls for $25 during peak hours, or as many as 676 balls for $100 during off-peak intervals.
At Him Lam, be prepared to shell out 110,000 Vietnamese dong for 100 balls – a little less than six bucks. A Tiger beer will set you back about a buck and a half.
One driving range axiom remains immutable wherever you go: Stripe them on the range one day, stink it up the next time you play.
# # #