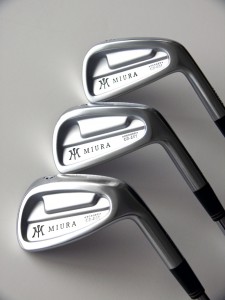 Better make that forged in the starring role. Over the weekend Miura CB-501 irons were the clubs of choice for K.J. Choi, winner of the Players Championship.
Cavity-backed models crafted by and named for Katsuhiro Miura, the Japanese forged-iron guru, the win also flew in the face of a prejudice more often inflicted on "model-actresses": the assumption that the performance could never match the appearance.
Not that there's anything wrong with choosing a great-looking set of clubs (or a model-actress); in fact, most golf instructors would concur that choosing sticks you think are cool, visually speaking, is wholly legitimate.
Indeed, for us non-pros, the attraction to the sculptural appeal of a set of Miuras may be as compelling as anything related to shaft flex, kick points, and all the rest of the technology. The idea that, in the right hands, they could be used to capture "the fifth major" is a bonus.
The occasion also highlighted an amusing peculiarity of golf-equipment marketing: Because "the winner" is not signed to an endorsement contract with Miura, he has to be referred to anonymously in press materials from Miura and any other non-sponsors.
It's a bit of a bugbear, of course, since it's simply assumed that anyone interested in knowing what equipment the winner used in competition will also know his or her identity. Several companies —Tour Edge and Nippon Shaft come to mind–employ the concept in their marketing, pointing to the absence of endorsement money as an endorsement in itself.
#         #         #