It sometimes seems that despite teaching the same subject, golf instructors universally agree on only one thing: There's an abundance of erroneous game-improvement advice going around, all of it perpetrated by sources other than the one assessing the state of the industry.
Much less frequently expressed, however, is an additional point that seems beyond dispute, even among the most disputatious: Technical specifications being equal — proper lie angle, loft, shaft length, and so forth — there's nothing wrong with choosing equipment primarily because you like the way it looks.
More than irons, drivers, hybrids, and fairway woods (or metals), putters have always occupied the widest spectrum of different shapes, sizes, and even materials. The variety has only increased in recent years, with new iterations of fins, claws, bolts, stabilizing beams, directional markings, inserts, and all manner of other gewgaws. (A similar range of unorthodox styles applies to golfers' putting styles, naturally.)
Of course, golfers will putt with a stovepipe or a chair leg if they're convinced it will help get the ball in the hole more dependably. That said, this writer's taste in putters runs toward simple, symmetrical putter-head shapes without extraneous appendages and graphics. And unless you already know the golfer in your life prefers something more "elaborate," these cool-looking models represent unassailable gift choices.
Three examples of different-but-elegant models – all comparatively recent entries to the market — with varying price points include:
• The RIFE Hero. This company has, in a relatively short period of time, cultivated a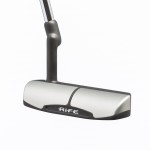 devoted following among tour players, particularly, for whatever reason, the senior circuit. Taken as a whole, the line is notable for a little bit of everything, including a two-bar model with adjustable weights and an entire series of putters costing 100 bucks or less. For sheer esthetic appeal, I like the Hero, part of RIFE's Vault 101 series, a highly stylized blade with a single sight line connecting its black-and-silver components. MSRP $234.95.
• The Barber Pole Portrush. A Dublin, Ireland-based company, Barber Pole this year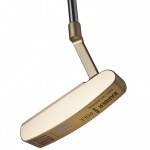 brought four models — two blades (Portrush, Lahinch) and two mallets (Ballybunion, Waterville) — to the U.S. They all resemble classic shapes – the Portrush, with its plumber's neck design, essentially mirrors the immensely popular Ping Anser – but are exquisitely crafted from solid brass. MSRP $349.
• Mantis Golf Putter. Introduced at the 2013 PGA Merchandise Show, the theory behind the Mantis is elementary: Its distinctive green stainless steel mallet head, intended to visually blend seamlessly with the putting surface, promotes focus on the ball – something that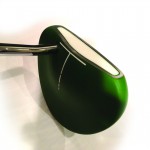 "busier," reflective putter configurations and finishes may subconsciously discourage. With an MSRP of $159.99, it's also an affordable option. 
Will these putters help you putt better and lower your scores? You might as well ask Darryl Strawberry for help on your taxes. But to quote the Ricardo Montalban caricature on Saturday Night Live, "It is better to look good than to feel good."
# # #