Watching ABC correspondent Martha Raddatz point out the North Korean landscape's treeless topography, I couldn't help thinking: Oh, wow. An inland links.
Now golf architecture purists will identify this as an oxymoron; normal, better-adjusted people with a basic sense of decency will call it the desperately sick joke that it is. (Raddatz went on to explain that the North Korean countryside had been deforested by the local citizenry, who needed the wood for fuel.)
Coincidentally, the next day included a bout with the malady du jour, hoarding, as I tried throwing out a crate of print publications, mostly magazines, that contain my work. Back in the day (by cracky), these served a kind of purpose, as editors would sometimes ask for writing samples while considering a query. As a practical matter, it was mostly a form of surplus repression, as they'd seldom actually read the stuff. A rare plus for digital publishing.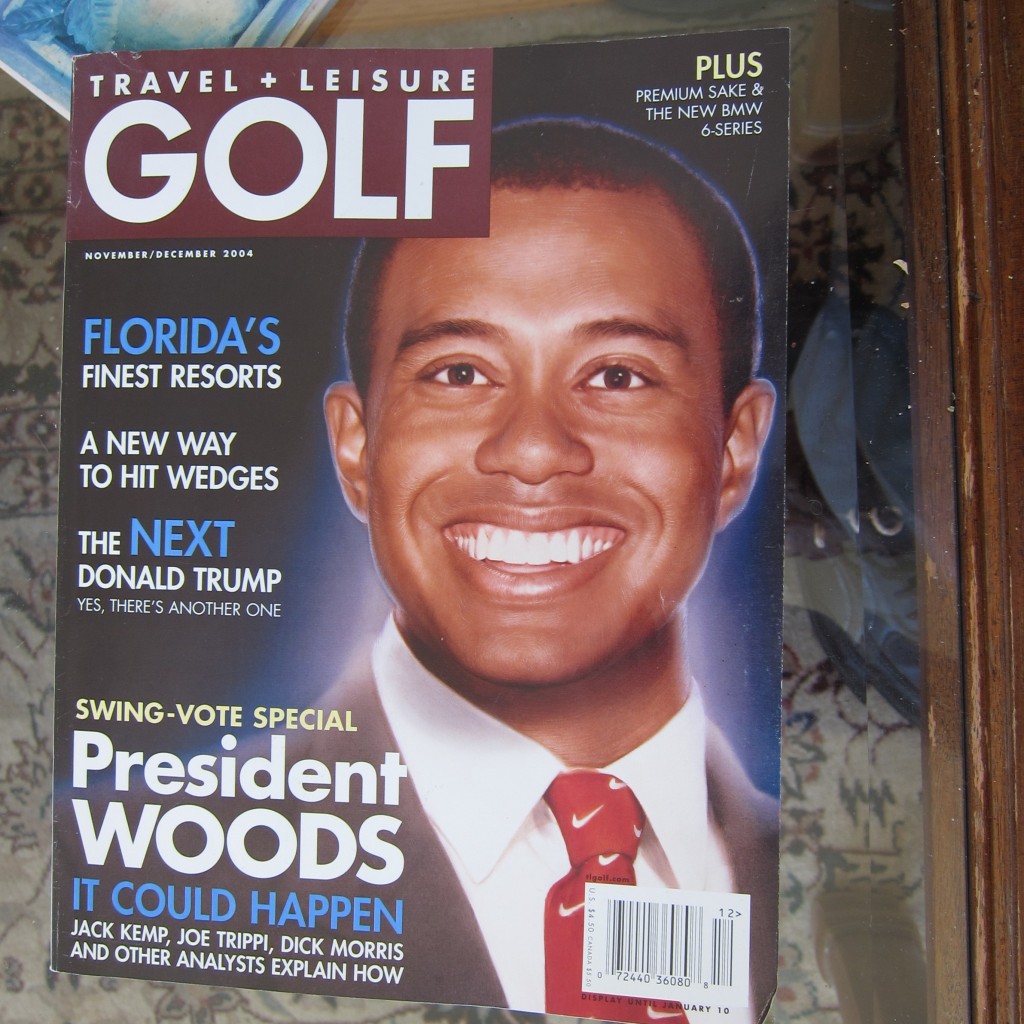 The stacks contained the November-December 2004 issue of Travel + Leisure Golf, for which I had written a golf guide to Orlando. The cover featured a beaming Tiger in jacket and tie, with the headline: Swing-Vote Special, President Woods, It Could Happen.
John Paul Newport, then the executive editor and now golf columnist for The Wall Street Journal, wrote the story, which surveyed various political pundits – Jack Kemp, Joe Trippi, Dick Morris – on turning Tiger's popularity to political capital.
At the time, it provided entertaining insights into the creation of the Tiger public persona; it's amusing now in light of subsequent developments. ("Tiger is an enigma at the moment," said Walter Isaacson. "Ultimately, he will have to let people know what's behind his mysterious façade by engaging more actively in the day's civic, social and political issues.")
Still, though Earl Woods, Tiger's father, may have had something else in mind when he said of his kid, "He'll have the power to impact nations," he did say it.
Well? I'm pretty sure Dennis Rodman's dad never said, "Dennis will do more than any other man in history to change the course of humanity." Even to a Bulls fan, it was pretty obvious from Rodman's visit to North Korea that this Kim Jong-un kid just wants attention.
So how about a friendly match between Kim and Tiger? Golf diplomacy on a massive scale (but without the part about instilling values). China would love to host such an event – lucky, since I don't know where you tee it up around Pyongyang – just for the exposure. And you have to figure they'd be ready for a face-to-face conversation with young Kim over a post-round beer.
For the actual match, maybe Kim will want to use a body double – not that easy to find but still doable – in case his game isn't sharp. Fine.
To the cynics who can't resist the urge to point out the immense promotional value of such a gesture to the game, no argument here. Plus, maybe we can avoid World War III. Tiger, already apparently back to what counts for him as normal, would be unambiguously redeemed of all past transgressions. Hell, we could even compromise our principles and pay him an appearance fee (har, har).
Oh, and one other thing, Tiger: We have to ask you to tank this match. Just lose this one time. And bring back some of those great hats they wear in the military.