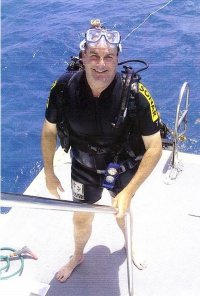 PGA Professional Cass Colbourne, then an assistant professional at La Jolla Country Club, near San Diego, was a long way from home – the other side of the world, in fact – when the dreadful news of the September 11, 2001 terrorist attacks in New York, Washington and Pennsylvania reached him at midnight, local time. As it did for the victims and survivors alike, and most every American citizen, the events of that dark day altered Colbourne's life path forever.
"I was in Melbourne, Australia leading a tour of members from La Jolla. Due to the time difference, many of my group members had already gone to bed when the news reached us down under," Colbourne, now 45, recalls. "Like everyone, I was in shock, but I knew that my members were counting on me to answer their questions, get them in touch with people at home, and adjust their travel arrangements accordingly. I had to be an informed, solid point of contact and source of comfort to my members."
Due to travel restrictions and complications, Colbourne and some of his members remained stuck in Australia for the better part of the month.
"I was so incredibly touched by the way we, as Americans, were treated by the Aussies. They couldn't do enough for us and were very sensitive to how we were displaced and low we were feeling," said Colbourne. Australian hoteliers extended the unexpectedly delayed group complimentary stays and made them as comfortable as possible with internet and telephone access. "I decided right then and there that life is precious and short, and that I wanted to expose as many people as I could to the great spirit of the Australians and the affection they have for Americans."
Working with the strong contacts he made while in Australia, Colbourne tailored his PGA career and created Golf Wine Travel, a company which provides custom golf and wine tours to Australia and New Zealand, sending Americans to exclusive and historic courses such as Royal Melbourne, Kingston Heath, Royal Adelaide, and New South Wales in Sydney, and Royal Adelaide; plus arranging private tours of acclaimed Australian wineries such as Jacob's Creek, Penfold's, Lindeman's, Peter Lehman, and others of the Barossa and Hunter Valleys.
"As a PGA Professional, creating just the right trip – the right 'fit' for my customers – is very similar to prescribing the right golf equipment or shaping their golf swings. Everyone's needs and desires are different, and it gives me great joy to find the right itinerary and hear them talk afterward about how happy they are and how much they enjoyed the people they met and places they visited," said Colbourne.
According to Colburne, New Zealand and Australia are the new "Ireland and Scotland" in terms of golf travel – the cutting edge – and currently uncluttered, enriching affairs.
"It takes just as much time to travel to St. Andrews from the West Coast as it does to fly down under," said Colbourne. "Air New Zealand makes the long haul flights very comfortable with extra leg space and quality service and comfort."
He's sent many celebrities to Australia and New Zealand, but Colbourne, who sometimes travels with his customers to give playing lessons along the way, says his most memorable customer, a San Diego sports radio broadcaster, embarked upon his trip having just learned he had terminal cancer. Colburne quietly alerted his contacts along the way of the man's condition. "The Australians and new Zealanders each, discreetly, gave him penthouse upgrades and took such special care of him and his wife," Colbourne recalled. "I was humbled to think that I could, in my small way, help provide him and his wife with such a memorable trip as one of their final memories."
Colbourne's company also provides a number of trips to charity auctions and fundraisers.
"We have local offices in Australia and New Zealand to look after our travelers while they are down under. We make all of the arrangements, flights, starting times, sightseeing, unique lodges, and specials things you won't find on most itineraries. We have spent years finding special guides that understand the North American traveler," he said. "Travelers can pour out a bad glass of wine or be moved someone to a different hotel if they really need to be, but if I put someone on the wrong golf course 8,000 miles form home – one that is too tough or too easy, with no power carts – I would be in big trouble. So I have visited every location and met with every operator personally in order to make sure I give my travelers exactly what they want."
New Zealand's dazzling locations near Auckland and Wellington include Cape Kidnappers Golf Club, Kauri Cliffs Resort, Gulf Harbor Country Club, Wairakei Golf Club, plus wineries such as Carrington and Morton Estates which produce New Zealand's acclaimed Sauvignon Blanc.
"I want my guests to feel like they're at a club while they're away from their home club."
Colbourne is warmly greeted by his new friends when he gets to travel down under, and says that a high regard for PGA professionals is evident amongst the Aussies and Kiwis.
Sadly, Mr Colbourne passed away in 2009