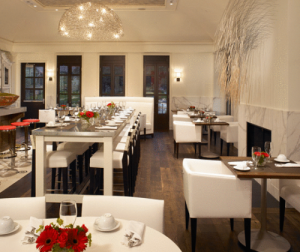 If you were blindfolded and placed in the lobby of the H Hotel, and the blindfold was removed, you'd be unlikely to guess you were in Midland, Michigan. New York? Miami? London? Sure. But Midland?
Managed by Dolce Hotels and Resorts, The H, in the center of downtown Midland, is elegant, sophisticated, stylish and even swank. Occupying a hillside city block on Main Street, the H, with its stone façade, wraps 131 guest rooms around a tree-filled, peaceful brick courtyard that serves as an open-air oasis. Once inside, the H envelops guests in crisp, contemporary comfort: a whiteout of marble floors and walls; lamps, lights and linens, ceilings, curtains, and carpets; with furniture, fixtures, pillows and pillars.
The décor is artistic, and so is the cuisine. The H's three dining options – Table, Café Zinc, and Bar Oxygen O2, are named with the periodic table of elements in mind – a nod to the nearness of the headquarters of the Dow Chemical Company.
Table's fine dining is presented by Michigan native Chef Jaime Jeffrey, who spent 20 years working celebrity chefs and studying organics in France, Germany, Bulgaria and Argentina before bringing his craft back to Midland. His kitchen operates with the French brigade's system of tradition, hierarchy, and discipline. In other words, what he says goes.
Jeffrey changes Table's menu daily, creating dishes with the reverence and precision of a scientist who knows how to summon the full potential from locally-grown ingredients without scaring people away with pretention. On a given day you might find Michigan Asparagus Lobster, poached egg, and white, balsamic truffle vinaigrette on your plate. Hunting season is perfect for Venison and Cherry Ravioli with tomato coulis and blue cheese; or Wild Boar with saffron risotto and ancho raspberry coulis.
Table's sommelier will walk you through over 3,000 wine options to properly pair with your courses. Wines begin at $16 per bottle for a Riesling from Washington State and run all the way up to the 1995 Chateau Lafite Rothschild at $2,300.
At the other end of the H's bright corridors lie the lively bookends of Bar Oxygen and Café Zinc.
With an exterior, Main Street entrance, Bar Oxygen O2 is Midland's most stylish place to be seen having a sophisticated drink. Soft seating in a private enclave and a warm, copper-colored, high bar mix the minglers with the snugglers.
While the dark Bar Oxygen O2 speaks easy, its' hall mate, Café Zinc, hustles and bustles with 40 seats in a brassy, casual, French Bistro setting. The white tile and hardwood floor, stainless steel countertop, and stylish seating make for a whimsical breakfast, lunch or dinner.
Fresh pastries and red pepper frittatas highlight the breakfast menu; at lunch, the Pear Tartine – crisp Gorgonzola cheese bread, pear jam, smoked bacon, blue cheese, fresh sliced pears, lemon juice and extra virgin olive oil – begs to be ordered. Ahi Tuna, Poached Salmon, Trout, Sea Scallops, and a lump crab and tuna salad make dinner light – but the Roasted Duck with bacon and corn risotto, wild mushrooms, foie gras and cherry jus might turn your head.
A favorite with Dow executives and Northwood University professors, The H is literally steps away from Midland's unique "Tridge," a three-way pedestrian footbridge crossing the spot where the Tittabawassee and Chippewa Rivers, intersect. offers bike rentals, and easy access for a walk on the wooded Pere Marquette Rail Trail.
The H, 20 miles east of Mount Pleasant, is an attractive hideaway for a stay-cation, winter weekend escape, private business conference, or a night to remember.
Visit http://www.thehhotel.com or call (866) 611-5231.
Michael Patrick Shiels may be contacted at MPSbigshow@aol.com