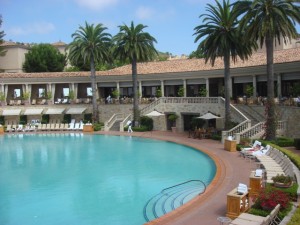 The presence of water always calms and comforts me, so I was in heaven. Sipping ice cold spring water from an aqua-marine tinted glass handed to me by a waiter in a light blue tie, I could look through the ice cubes and the bottom to view the sea and, in front of it, a circular swimming pool – at 136 feet across, one of the world's largest. This saltwater splash lies in The Coliseum, a tiered stadium of restaurant seating, private cabanas and chaise lounges surrounding the pool and overlooking the Pacific. Pelican Hill Resort, built on 504 acres high above the scenic canyons of California's coast of Newport Beach, cleverly pulls the Pacific up from Crystal Cove State Park to its' 204 bungalows, 128 villas and two Tom Fazio-designed, top 100-rated golf courses.
I'm 45 minutes south of Los Angels, but I expect an opera singer to break into voice around every corner. Pelican Hill, opened two years ago, features Palladian-style architecture and olive trees designed to make guests feel as if they're strolling though plazas in a Northern Italian village in the high renaissance period. The villas and bungalows, with as many as four bedrooms, present Italian linens and art, while the highlights of Pelican Hill's 23,000 square-foot Spa are warm Roman soaking pools, Tramonto (sunset) massage, and Body Gelato, using figs, pomegranate, honey and lavender.
I found myself aching to speak Italian while dining al fresco on the terrace at the resort's rustic, Tuscan signature Andrea Ristorante. Dishes emerge from a temperature-controlled pasta room, except for the mushroom risotto, served tableside in the hollowed out center of a Parmigiano-Reggiano cheese wheel. Bellissimo!
Pelican Hills extensive and varied facilities coupled with its' astonishing luxury and scenery makes it an inspiring, romantic place for a wedding. Villa guests enjoy the services of a butler and the resort arranges any custom requests, including luxury cars in your private garage, groceries in your kitchen, and even Christmas trees or family photos placed in living areas in advance of your arrival.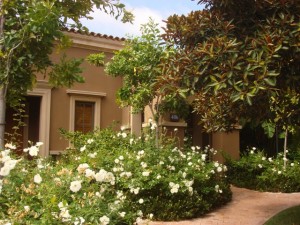 A friendly margarita tasting at happy hour gave me a chance to meet some staff members and other guests on the evening of my arrival.
The resort's slight drawbacks are that the pool closes at dusk in a setting which would make for a wonderful moonlight swim; and due to the canyon's geography, shuttles, though stylish, complimentary, and very prompt Mercedes busses and Cadillac Escalades, must be used between some of the venues and beach activities. Surfing, boating, kayaking, fishing, trips to Catalina Island, art galleries, and shopping at Fashion Island Mall are available.
Both of Pelican Hill's epic golf courses offer views of the ocean and canyon. There may be no better view than the one down the driving range high up at the resort's golf academy. Top-100 teacher Glenn Deck, in his homespun manner, reminds people not to make golf too hard. "I'm result oriented. I won't confuse you. I don't teach 'the golf swing.' I work with 'your golf swing,'" Deck told me after an eye-opening morning lesson that resulted in immediate improvement. "You were making golf too hard," he explained, before teaching me why I should practice five-inch putts just before I head to the first tee. Grazie, Paisan!
For more information, visit www.PelicanHill.com
Michael Patrick Shiels may be contacted at MPSbigshow@aol.com or via www.TravelTattler.com