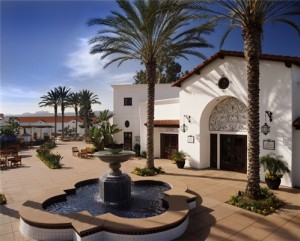 Last weekend's "Carrier Classic" – a basketball game played under the glow of twilight on the deck of an aircraft carrier in San Diego Harbor, was a reminder that San Diego, in addition to touting itself as "America's Finest City," also has America's most pleasant climate. Where else would Michigan State's athletic director Mark Hollis even dare to dream up an outdoor basketball game against the top-ranked Tar Heels, on worldwide television, with President Barack Obama in attendance?
The teams and their fans, including Magic Johnson, headquartered near the Navy base at the historic landmark Hotel del Coronado, a timeless relic which is Southern California's answer to Mackinac Island's Grand Hotel. "The del" is managed by KSL Resorts, which also operates La Costa Resort and Spa, in Carlsbad, about 30-minutes up the coast along Interstate 5.
Unlike its' bustling beachfront sister property, La Costa is a restful, fragrant enclave, encircled by mountains and hidden on 400 lush, garden acres. Its' quiet, village setting allows guests to stroll from the main plaza through shops, restaurants, and along pathways between low-rise fresh, white, luxury villas with red, Spanish-style roofs. Why are they walking in such an unhurried manner? Probably because they've just peacefully emerged from what Spa Magazine has recognized as the best in Southern California.
If you've never taken advantage of resort spas (this includes you, too, gentlemen), La Costa will bring you to your senses. Infusing the abundant elements of nature, including locally-grown rosemary, lemon-thyme, strawberries and sunshine, La Costa's spa experiences include a Bamboo Massage, Citrus Renewal, and Berry Firm Facial. Al fresco features include a waterfall shower, Jacuzzi and shaded or sun-splashed lounging areas. While children frolic on the waterslide over at the resort's subtle, sequestered Splash Landing pool play area, adults wince, moan and purr as they walk on the smooth stones of the spa's Reflexology Path, one of only a few in the United States. Pacific beach cobblestones, embedded in concrete in varying patterns, gently stimulate pressure points in the feet, stimulating blood flow and relieving stress. What a way to spend your time between sessions at a business conference! So precious is the experience that I saw guests walking the path in pouring rain. Linger, breathe, live. It's sort of an extension of the home remedy that standing on a golf ball is a good hangover cure. La Costa cures a golf craving with 36 holes which have hosted significant PGA Tour and LPGA events for 40 years, allowing the likes of Jack Nicklaus, Tom Watson, Gary Player, Lee Trevino, Tiger Woods and Phil Mickelson to put up their feet after a days' play on courses that saw celebrities such as Frank Sinatra, Clint Eastwood, Bing Crosby and others kick up their heels with a round…after a round. Two-time Ryder Cup player Steve Pate, who won six times on the PGA Tour (including a victory at nearby Torrey Pines and a 1988 win at La Costa), worked with golf architects Damian Pascuzzo and Jeff Brauer to renovate what's now called the Champions Course.
La Costa's rare combination of convenient facilities in an appealing setting make it a dream wedding destination…and just dreamy in general.
Visit www.LaCosta.com for more details.
Michael Patrick Shiels may be contacted at InviteYourself@aol.com or via www.TravelTattler.com