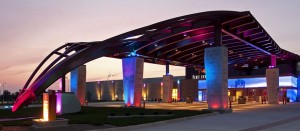 Chances are, pardon the pun, you either have a friend or colleague who just got back from a trip to Las Vegas; or you know someone who is on their way to the glittering gambling gulch in Nevada. Business and pleasure are often mixed into the concentrated cocktail of gourmet restaurants, golf courses, entertainment, and gaming Vegas is. The town both stirs and shakes with convention-goers and pleasure seekers.
Take the case of two dealers: Bob Wyklige and his sister Sherrill Freeborough. Wyklige is a card dealer; Freeborough is a car dealer. He deals Blackjack to the all-night crowd at the Bellagio in Nevada; she sells automobiles at her Hyundai of Lansing dealership in Michigan. The enjoyed a reunion when Hyundai staged a nationwide dealer meeting at the Mandalay Bay Hotel.
"I really like the Venetian Hotel, too," says Freeborough, who had no trouble moving between these landmark properties stacked right along the Strip. Wyklige has seen lots of changes and fads in Vegas. He's been dealing cards there for more than two decades.
Las Vegas, for a period, seemed to deny – or at least hide – the gambling. Roller coasters, water parks, children's arcades and golf courses were built, and touted, to families. I tested the theory, figuring no place embodies the ultimate father and son trip like Las Vegas! …Except when your son is eight years-old.
"Vegas?!" his mother shouted "Are you crazy? That's no place for you to take my son!"
Nonplussed, little Harrison and I winged it to Sin City for a long weekend. After all, I had heard about how Las Vegas has made efforts to become family friendly, so I figured we could play golf and splash around in the swimming pool all day, and then take in the lights of the Strip by night. What kid wouldn't be wowed by the white tigers and colorful, fiery exploding volcano at The Mirage.
Now before you consider phoning child protective services to report me, you should know that I never gambled once on the trip. And we didn't even stay at a casino hotel on the Strip. But the glitz and glamour began immediately when Harrison wanted his photo taken with the limo driver holding the sign with his name on it at McCarran Airport.
And you should have seen the look on the young man's face when we were led into the giant two-bedroom sweeping suite at the J.W. Marriott in Summerlin. One push of a button opened the automatic drapes and revealed a 180-degree panoramic view of the Strip, behind the patio hedges, six miles below. The hotel management and public relations team, Jamie Land and Lisa Roughley, had left a welcome tray of nacho chips, beer, root beer and fancy chocolates, which Harrison dug into. After that it didn't take him long to explore the suite and come back asking me, "Why are there two toilets in each of the bathrooms?" He giggled his ass off, and so did I, when I explained what a bidet was, and demonstrated with my pants on.
My Vegas scheme was working very well when we rented a cabana for the day in the desert sun beside the J.W.'s massive swimming pool. We played countless games of Marco Polo in the part of the pool which winded under a waterfall and rock cave. Harrison lived large, ordered kiddie daiquiris and smiley face-cut French fries to the cabana, which had soft chaise recliners, a cold water mist machine, and a television. Sleep came easy that night after a sun-splashed day.
By day, we tooled around through the Red Rock Canyon, and played 18 holes of golf on Pete Dye's fantastic, dramatic Wolf Course at Paiute Golf Club, where the highlight of Harrison's round was an up close inspection of a large lizard on one of the cart paths. On another day we played golf at Angel Park and TPC Canyons too, where we were paired by coincidence with television star John Daly, the host of "Real TV."
But the lights of Glitter Gulch beckoned, beginning with dinner at the Capital Grill overlooking the new Wynn Hotel. Harrison endured the gourmet dinner well, but with the lights in his eyes. My plan, though dubious, was working. He was enthralled by the pirate show's explosions in front of Treasure Island. Harrison's jaw hit the floor watching the magic show and trapeze acrobats at Circus Circus, which also featured an amusement park with a Sponge Bob Squarepants ride. He won a stuffed animal in the neon glowing arcade at Luxor, or maybe it was Excalibur. He gazed at the lights from high atop the Stratosphere Tower. When his neck craned at the Freemont Street Experience animated light show, I was certain Vegas had been stimulating for Harrison.
Then it happened.
While walking across from Caesar's Palace, Harrison noticed a man walking along the street handing out little fliers. His bright yellow t-shirt had a message emblazoned on it: "GIRLS TO YOUR ROOM – $30."
"Dad," said Harrison, tugging on my arm. "What does it mean: 'Girls to your room $30?'"
"What's that?"
He pointed at the man and repeated, "Girls to your room: $30."
Time seemed to stop. I thought as fast as I could.
"Cleaning ladies," I finally blurted out. "That man is advertising for cleaning ladies. They come and, you know, clean your room."
"Gee," he said, "Can we call my mom? I should tell her about this."
Oh no, I thought to myself.
"Why do you want to tell your mom!?" I asked Harrison.
"Because the lady who cleans our house charges her 75 dollars!"
Hard line Las Vegas casino operators, born in the hard drinking Rat Pack days scoffed, then protested, that travelers come to Las Vegas to gamble, and that marketing dollars should be spent embracing – not ignoring – that fact. Oh, and let's even put a touch of sin with the sizzle: "What Happens in Vegas Stays in Vegas."
Jim Trebilcock, a financial planner from Trebilcock and Danek Financial, in East Lansing, recently stayed at the Bellagio, but is happy to talk about the experience. He visited a number of the off-Strip properties, as well. "I went to the Rio Suites and to The Palms," he said. "Business in Vegas seemed to be booming! And I noticed swarms of young people – all dressed alike – flooding into the clubs every night."
Okemos dentist Dr. Christine Tenaglia never drops even a penny in the slots, but travels to Vegas regularly for advanced dental studies at the acclaimed Las Vegas Institute in the Summerlin area. The JW Marriott Resort and Spa there, like a welcome oasis, looks down over the Strip from six miles away.
"More than anything I love the amazing number of world-class restaurants," says Tenaglia, who plans her evenings around the availability of gourmet experiences by acclaimed celebrity chefs.
Not far from Summerlin, Restaurateur and lobbyist Noel Laporte, from Lansing, enjoys Red Rock Resort. "That's my place," he says. "It's the only billion-dollar resort off of the Strip."
MGM's new City Center development, a collection of residences, hotels (such as the dazzling Aria), spas, and high-tech meeting spaces, pools and landscaping is filled with fine art and featuring spectacular architecture, shopping, entertainment, and yes, gaming.
Lori Fata, a stay-at-home-mom from Lansing, likes to 'get her Vegas on' closer to home at Firekeepers Casino in Battle Creek. "We try to replicate the flavor of Las Vegas in our presentation right here," says Jeff LaFrance, marketing manager for Firekeepers. The red doors behind the fountain of fire off of I-94 near I-69 between Kalamazoo and Lansing lead to vintage Vegas-style showgirls, entertainment right on the casino floor, high-end gourmet cuisine, and sophisticated, stylish, décor with contemporary light shows and music.