Rounding the Labor Day calendar corner from a Michigan summer straight into the "fall colors" season, I touched base with some of Michigan's most popular, innovative resorts to learn how they fared in the face of the recent economic downturn.
Travel Michigan's "Pure Michigan" advertising campaign plus helped make www.Michigan.org the nation's most-visited state tourism website, but did the marketing push translate to real time visits between Memorial Day and Labor Day?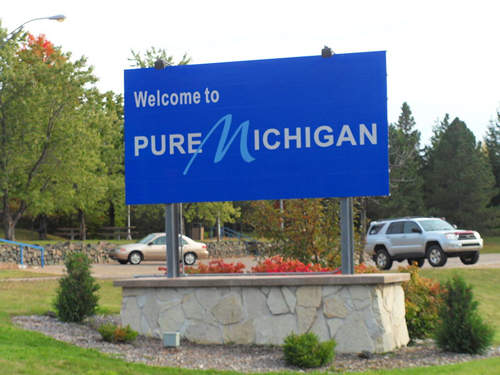 Dan Musser III, president of Grand Hotel, on Mackinac Island, has been a strong supporter of the "Pure Michigan" campaign.
"Our summer season was not as bad as we feared it might be, but it's important to remember our season is still going strong. We close at the end of October and until that time we still have some great deals going on," said Musser. Grand Hotel has always created special themed weekends, such as the Labor Day Jazz Weekend, Lilac Festival, Murder Mystery, and the "Somewhere in Time" weekend, which pays tribute to the Christopher Reeve/Jane Seymour motion picture shot at the scenic, stately hotel in 1979. But Grand Hotel, like many higher-end, luxury hotel chains, wondered how to respond to challenging economic times without devaluing the time-honored, premium perception of the product. Realizing that the historic hotel's customer-base includes families who cherish their annual, traditional visits to "America's Summer Place," Grand Hotel's sales and marketing V.P. Ken Hayward, current chair of the Michigan Travel Commission, helped devise "complimentary third night" and "bed and breakfast" offers that remain popular into the autumn.
Chris MacInnes, the immediate-past chair of the Travel Commission and COO of Crystal Mountain Resort, in Thompsonville, also cited "Pure Michigan" and special package prices as the reason Crystal also has a better summer than expected and actually experienced record numbers in July.
"The 'Pure Michigan' campaign helped to tell our story across the country, it also generated in-state travel by reminding Michigan residents about the wonderful things our state has to offer," said MacInnes. Crystal Mountain features an Alpine Slide, water-park, canoeing, wooded trails and golf along with a conference center and new spa. "We offered family packages as low as $179 per-night so that when people got here they could put away their wallets and know exactly how much lodging, activities and meals would cost them."
Boyne's "Super-5" golf packages, a tradition at the resort, have been renamed "Boyne Gr8 Golf Escape" and allow for more customizing with value pricing.
"We were very pleased with the number of guests we entertained at Boyne Mountain and Boyne Highlands. The 'Pure Michigan' campaign had a definite impact," said Erin Ernst, public relations manager for the golf resort, indoor water-park and spa, which has locations in Boyne Falls, Petoskey and Harbor Springs. She admitted that, due to some unseasonably wet and chilly summer weather, the number of golf rounds played were down. "Our packages and pricing did very well."
Kevin McKinley, director of golf and ski operations at Treetops Resort, in Gaylord, says the resort, which featured 81 holes of golf designed by big-name architects, held the line in terms of business this summer compared to last summer.
"We did offer an unlimited golf package and still do this autumn, but I get frustrated with some of the other deals that are out there," said McKinley. "Frankly, I think it hurts all of us when (other resorts and courses) go really low (with their discount pricing.)
Arcadia Bluffs, the highly-rated and scenic golf course overlooking Lake Michigan just north of Manistee, experienced the same amount of golf rounds as the previous year without discounting the high-season rate of $180-per round.
"We had a fantastic season and we have about eight weeks left," said Shriver, who estimated that about 50-percent of the visitors to Arcadia Bluffs are from outside Michigan.  "People leave here and go tell 10 of their friends about us."
Arcadia Bluffs is about to add 14 guestrooms to the top of the clubhouse to accommodate overnight guests who, whether they play golf or not, wish to marvel at the astonishing Lake Michigan sunsets after a gourmet meal in the clubhouse restaurant.
"We've been talking about it for a long time, and the time is right," said Shriver.
The Villages of Tullymore, in Stanwood, slightly west of Mount Pleasant and just north of Grand Rapids, has also experienced an influx of out-of-state visitors who wish to play and stay in Michigan.
"Our last three real estate sales have been to people from outside of the state," said Tom Wuyczyk, sales manager for Tullymore, a relatively new-kid-on-the-block who's nationally-ranked golf course and glamorous, upscale housing has been stealing lots of attention.
An old dog with new tricks is Shanty Creek, a golf and ski resort with conference capabilities, in Bellaire, which saw an increase of 4,000 rounds of golf this season, according to Chris Hale, Shanty Creek's vice-president of sales and marketing.  Shanty Creek recently completed a $10-million renovation of its' Lakeview Hotel and Conference Center, which always had a beautiful view of Torch Lake.
"It has been remarkable to see the look on people's faces when they pull up to the lodge," said Hale. "They talk about how amazing it is and what a difference it makes. Things are definitely trending upward here."
"Pure Michigan"
Originally printed in the Lansing State Journal