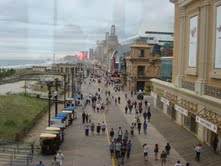 Atlantic City's Boardwalk, an iconic American experience, provides an immediate sense of place to anyone who strolls its' fabled Oceanside planks. Had you been beamed there by Star Trek's "Scottie," you would know immediately where you were because there is no place else like it in America. The Jersey Shore is on one side of the 20-yard-wide boardwalk; and on the west side, the casinos and commercial endeavors which have crept up to the Atlantic like an army of crabs. Carnival barkers, fortune tellers, souvenir shops, tattoo parlors, kooky museums, novelty stores, and games of skill and chance amuse families and beachgoers. An ice cream cone for Grandma while she watches her beloved urchins buckle into gentle thrill rides on the Steel Pier. Couples carted around on human rickshaws. Kids skateboarding with cotton candy in one hand.
Atlantic City's Boardwalk is so idyllic in a gritty, authentic way, and there is no admission fee for this traditional, American pursuit of happiness on full display through the attractions and the attractive, eccentric people-watching.
A new generation of entertainment sprouts constantly through Atlantic City's old charm. The result is like a classic car with a modern engine and a killer sound system: nostalgia, with power, supercharged. Events such as the Atlantic City Food and Wine Festival will feature celebrity chefs at top-name, gourmet restaurants in late July. There are big name entertainers and swank parties attended by celebrities such as Kim Kardashian, prize fights, hundreds of limo or chopper-ferried VIP's, celebrity beach bars, and constant buzz that would make the city a destination even without the boardwalk or the ocean. The Rat Pack would never have imagined this level of "ring-a-ding-ding."
Picture the scene at Harrah's Resort, the company's flagship HQ, where an expansive glass roof covers an indoor pool area surrounded by palm trees and bikini-clad waitresses. During the day there is island music and luaus. Each night though, this tropical terrarium turns into a pulsating pool party – the most exotic nightclub in town! Do the sharp-dressed partygoers occasionally fall into the pool? No – they walk right in capriciously, fully clothed clutching a cocktail and a glamorous date or two. What goes on in the private hot tubs can only be imagined. Celebrities, such as Ludicrous, have been known to make appearances.
Harrah's also offers a unique family swimming pool area for only those under age 16 (and their parents) with water wars and arcade games.
The mood is set as soon as you check in to Harrah's: the front desk attendants have name tags with nicknames such as "the bubbly one" or "fast and furious." An elevated, circular bar called "Xhibition" in the center of the action pumps music, and surrounding it are striking, hot models dealing cards and running a roulette game at which straight-A students would understandably be unable to count to 21 or distinguish between red and black!
"Can I have an order of crab cakes and a Diet Pepsi?" I asked the Harrah's room service attendant on the phone.
"Sweetheart, you can have anything you want," she answered.
Clearly the employees understand the fact that people who come to Harrah's want to have fun. And they want to make it easy on you to get there. All summer Harrah's, which is a short, $13-dollar cab ride from the boardwalk, is offering weekday room nights for an astonishing $100 per-night; Spirit Air out of Detroit has roundtrip daily non-stop flights for less than $100.
Plenty of entertainment, dining, spa-going, and golf, too, since Harrah's owns the historic Atlantic City Country Club. Michigan-based golf architect Tom Doak updated and renovated the course in 1999, more than 100 years after John Reid originally designed the layout. But only the sweeping views of the distant high-rise Boardwalk hotels beyond the back-nine wetlands reveals that you have not gone back in time to the golden age of golf to play a traditional, American course.
The term "birdie" was actually invented at Atlantic City Country Club, and John J. McDermott, the club's head golf professional in 1911 and '12, became the first American ever to win the U.S. Open.
The club's old-fashioned men's locker room honors past players by putting their names forever on the lockers they used when they visited. I was given the locker used by Fred Couples, which was right between ones used by Roger Clemens and Willie Mays. If you're lucky enough to play on Sunday morning, which is a quiet time on the course, you'll be able to enjoy the club's smashing brunch topped off with a traditional strawberry daiquiri.
With easy transfers and readily available cabs, plus the close proximity of the sights, you needn't rent a car upon arrival in Atlantic City. In fact, wheels would be a nuisance.
Experience and see the unique blend of the traditional and the progressive in Atlantic City, a quick easy getaway you'll be talking about afterward.
For more information, visit: