For the Michigan State football team and its' fans, the road to Pasadena for the 100th Rose Bowl game went through Indianapolis. As if they were Indy 500 drivers themselves, fans raced down two hours south of Michigan's southern border to see the Spartans beat Ohio State in the Big Ten Championship Game. They were eager to get to the vibrant town well more than 24 hours before kickoff, and with good reason, according to Chris Gahl, vice-president of Visit Indy. "The stadium, 12 hotels and countless themed bars and restaurants are connected by a sky walk full of shops to the convention center where we staged indoor pep rallies. Fans can keep warm and walk the whole way inside if they like. Plus on the streets there were food trucks, a bier garden, and live music."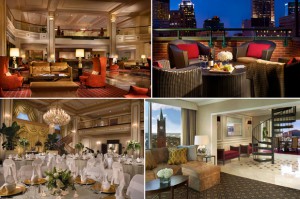 The game itself was held indoors at Lucas Oil Stadium, which serves as home to the NFL's 2006 World Champion Colts and hosted the 2012 Super Bowl. I used my elegant, spacious corner room at the historic Omni Severin Hotel to host a pre-game "tailgate" party. The Omni's colorful atrium lobby and creative Wine Thief bar were full of excited fans. From the cozy balcony of the seventh floor we could look right into the stadium, hear the revelers outside, and easily walk across the street to the game seconds before kickoff.
There is a reason downtown Indianapolis feels like a college campus or an amusement park, according to Gahl. "30 years ago city leaders decided to use the annual Indianapolis 500 as a base to attract other big sporting events and sports tourists."
The civic strategy has been wildly successful, drawing the NCAA Basketball Final Four seven times (including MSU basketball's championship win in 2000 and a semi-final loss in 2010), and the men's and women's Big Ten Basketball Tournaments, which return to Banker's Life Fieldhouse (where the Indiana Pacers play) March 6-9 and March 13-16 respectively. The NCAA itself is now headquartered in Indy. Summers in Indy have included golf's PGA Championship, U.S. Women's Open, and Solheim Cup, not to mention a charming zoo and plenty of riverfront greenspace.
Downtown is full of fine and fun dining, the monarch of which is the 110-year-old St. Elmo's Steakhouse, famous for bone-in steaks and the biggest, baddest shrimp cocktail in America. Our waiter said, upon being hired, he'd been given a three-hour written exam about the restaurant, its' history, menu and service standards before ever picking up a tray. Capitol Grill, and Ruth's Chris vie for the overflow steakhouse crowd. A unique weekend breakfast is "Kegs and Eggs," right back at the Omni's Severin Bar, where you can sample locally crafted beer for $3 and build your own Bloody Mary for $5 per to go with your pork roll, benny bun, or breakfast taco.
For more information, call the Omni at (317) 634-6664 or log on to www.VisitIndy.com.
Michigan-based travel writer Michael Patrick Shiels may be contacted at InviteYourself@aol.com or via www.TravelTattler.com His morning show is heard weekday mornings in Lansing on 92.1 FM.