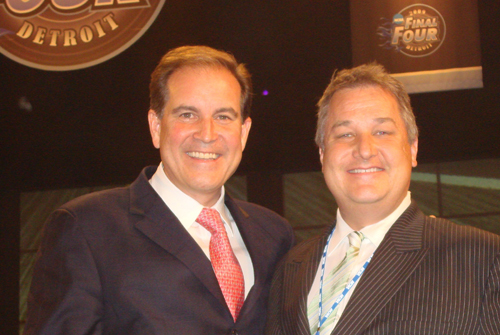 I'll be spending time with CBS TV Sportscaster Jim Nantz when he comes to Detroit in a week or so to broadcast the NCAA Final Four games at Ford Field.
Nantz is the voice you hear describing the college basketball games, National Football League games and the PGA Tour for CBS Sports. He's called the action from the Olympic Games and, in addition, has hosted the CBS Early Show and the Macy's Thanksgiving Day Parade. In fact, in his New York Times bestselling book "Jim Nantz – Always by my Side," he recounts anchoring the Super Bowl, Final Four and Masters Tournament in a span of just over two months!
I had developed an acquaintance with Nantz over the years through a mutual friend Ben Wright, the Emmy Award-winning English golf announcer who was part of the CBS golf broadcast team for over 20 years. Wright and Nantz were colleagues and friends. Nantz is on record as calling Wright "the greatest golf announcer of our time." Wright and I have written two books together, including his autobiography "Good Bounces and Bad Lies," which the Los Angeles Times wrote was "maybe the best sports book ever."
So though Ben I first met Nantz at the Masters Tournament and, over the yeas, I have written magazine articles about him or have dropped in to see him at the CBS broadcast tower when he covered Michigan events like the Buick Open or the Ford Senior Players Championship.
One winter Sunday afternoon in Michigan I was watching the Nantz and his co-horts David Feherty, Gary McCord, and Nick Faldo provide commentary on the CBS broadcast of the Los Angeles Open while I caught up on some work. I was a week away from my honeymoon to Hawaii with my new wife, Dr. Christine Tenaglia, when I remembered that Nantz spent a couple of weeks each summer at Wailea on Maui. I figured I'd send Jim an email asking if he had any travel tips or advice about Hawaii and, in particular, Maui. I'd expected that in a few days, maybe Tuesday, I'd get a response.
But right in the middle of the CBS telecast, as Nantz and the others were calling the action at Rivera Country Club, I got an email response from Jim! It was two paragraphs of ideas and places he likes to visit on Maui: the Four Seasons and a restaurant called Sarento's on the Beach! Knowing what I know about how complicated anchoring a golf broadcast is – with announcers and cameras at various locations as players hit shots and putts all across the final nine holes – it was astonishing that Jim would be reading and responding to his email during the show and flattering that he'd choose to write back so quickly.
I printed the emailed information and settled back into my work. The golf telecast, and the thought that I'd be in Hawaii in a week made seeing the falling snow outside my window bearable. About 20 minutes later, I heard Nantz reading a promotional announcement looking ahead to the PGA Tour events being contested the following week.
"Next week on the PGA Tour," he said as a graphic with the tournaments and locations appeared on the screen, "the World Golf Championships Accenure Match Play Championship at The Gallery at Dove Mountain, in Malara, Arizona; and the Champions Tour Skins game will be held at Kaanapali Golf Club, on Maui…And there'll be some other action going on in Hawaii, as well…"
I nearly fell off of my chair!
Nantz was making a sly, double-entendre reference to my Hawaiian honeymoon right there on CBS!
A few months later, when Jim was coming to Detroit for the PGA Championship, he phoned-in as a guest on my radio show. I told the story, on the air, of how Jim had responded to my email with travel tips right in the middle of the broadcast.
"Well, what are friends for?" he asked in response.
Then I told my radio listeners about his cheeky "action in Hawaii" comment.
Jim started laughing. "Yep, that was for you," he said. "I hope you didn't take offense! I just wanted you to know I was thinking about you!"
So when you're watching a live broadcast, remember, there might be more going on than meets the ear!
March 25, 2009
"Jim Nantz"
Originally printed in the Talk of the North