"Do you know how to sail a catamaran?" the tall water sports attendant named Akiel asked me in his Jamaican accent as he began to push the boat off the sand and into a sea so colorful it looked like blueberry Kool-Aid.
"I have a Hobie Cat I sail on Lake Lansing," I answered while strapping on my life jacket. "It's an inland lake in Michigan."
He looked at me through his sunglasses and, trying not to be condescending but grinning, said, "There is no 'other side' here on the ocean. I'll go with you. No pressure, 'Mon.'"
And with that Akiel simply hopped aboard, grabbed the rudder, and within seconds we were gliding away from the beach of the Iberostar Grand Resort at Rose Hall in Montego Bay. Over the sound of the waves splashing beneath the boat he smiled and said, "I didn't want you to end up in Mexico on this thing!"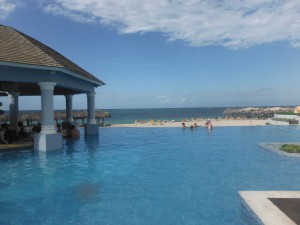 The Iberostar is an all-inclusive resort, meaning there is no charge for everything from sailing and snorkeling to room service. You can even fearlessly raid the mini-bar. The sit down dinners, swim up bar, fall-down tropical drinks and live entertainment are all included in the price of your room (which during my stay was just over $200 per-person, per day.)
We sailed in the afternoon sun along the coast off the four-story, expansive resort. Akiel taught me how to properly steer the boat into the prevailing winds and claimed that, for speed during races, he could heel the catamaran up on one pontoon for as long as 15 minutes! We were taking it easy, though, and even anchored onto a sand bar for a brief swim, during which Akiel deftly brought up and displayed a starfish and sand dollar for me to examine and photograph. He was industriously working hard to make the day special, as I saw him do for many guests. As we sailed back in, I asked him about his life in Jamaica.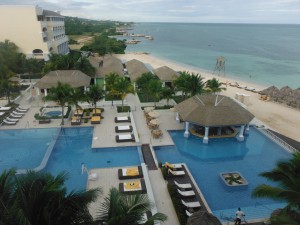 "I used to just 'smoke it up' every night. What else was there to do?" he admitted, referring to the celebrated – but still illegal – ganja that is part of the Jamaica's Bob Marley-Rastafarian culture. He told me, because I asked, about the thrice nightly romantic exploits he enjoyed with guests when he worked at one of Jamaica's more notoriously hedonistic singles resorts. "Those days are long gone. I've had enough of that now."
If a man can say he's had his fill of romance – he must have had a lot of it!
Like the rest of the Jamaicans working at the Iberostar Grand, Akiel took his work, but not himself, seriously, which made for great service and a fun atmosphere.
"If I go to the U.S. someday," he said, "I've got enough sun in this body over the years to melt any snow!" Enjoy the warmth of the Iberostar, and its people, by visiting www.Iberostar.com.
Michigan-based travel writer Michael Patrick Shiels may be contacted at InviteYourself@aol.com or via www.TravelTattler.com His morning show is heard weekday mornings in Lansing on 92.1 FM.