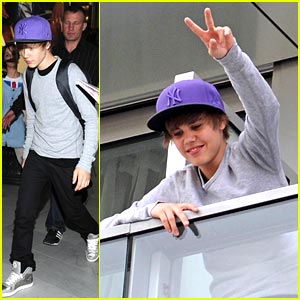 Do you want to meet Justin Bieber? Then start looking for Chandler Bing. Matthew Perry, who played Bing on the TV show "Friends," let the world know in a recent interview that Bieber, the pop sensation, checks into hotels using the character's name as his alias.
            You might be surprised to know how many famous people you can encounter, or reach via telephone, at hotels. When a world famous singing star like Bieber comes to town on a concert tour, a little local knowledge and common sense can lead star-seekers to celebrity digs. In order to avoid autograph seekers, paparazzi, and late night calls from swooning teens, "Bieber" becomes "Bing" on the hotel registry – so friends with the assumed name, and presumably his parents, can still reach him.
            According to the New York Post, Bieber is not the only notable with a playful nom de plume. Elton John has used "Bobo Latrine." Brad Pitt has checked in as "Bryce Pilaf" and would have to reach his lover Angelina Jolie by asking for "Miss Lollypop." Ironically, Pitt's ex-wife, Jennifer Aniston's alias is "Mrs. Smith," a wry choice, since her husband met Jolie while shooting the film "Mr. and Mrs. Smith."
If you'd asked for the room of "Mr. Satan," you may well have been connected to Johnny Depp. Huey Lewis claimed to be "Jacques Strapp" while Kate Beckinsale fashioned herself "Sigourney Beaver." Diana Ross is "Miss Orange." Tiger Woods has been known as "B. Simpson."
New York Yankee slugger Alex Rodriguez supposedly has used his first and middle name: Alex Emanuel. Baseball Hall of Famer Reggie Jackson, known as "Mr. October," registers with his real name: Reggie Jackson.
If you're hoping to catch a glimpse of Bieber during his upcoming tour in March and April, you'll need to sleuth around hotels in cities including Dublin, London, Paris, and Sydney. As a travel writer lucky enough to have visited these cities, my guess is that in Dublin, Bieber will cool his tennis-shoed heels in a boutique hotel built in 1852 on the River Liffey called: The Clarence – now renovated and owned by Bono and his Irish rock group U2.
I would suggest 16-year-old Bieber take in a bit of history by lodging in London's Langham Hotel, just across from BBC radio headquarters. The iconic hotel was good enough for American divorcee Wallis Simpson while she was consorting with the future King Edward, as depicted in the award-winning film "The King's Speech." The Langham was also used in the 007 movie "Goldeneye."
            Guests of the stately Hotel de Crillon, in Paris, used to be able to view beheadings from its windows, and I once sat next to Billy Joel in the hotel's cocktail lounge, but the nearby Hotel Ritz was the last spot paparazzi photographed Princess Diana.
            Down Under, there is hardly a better view for Bieber than the one provided by the high-rise Four Seasons Sydney, where a skyline suite provides a panorama of the billowing roof of the iconic Opera House and the Sydney Harbor Bridge.
            With this list of fantastic hotels, if you can't meet Justin Bieber, at least you can live like him! Why not even create your own alias for a real getaway feeling?