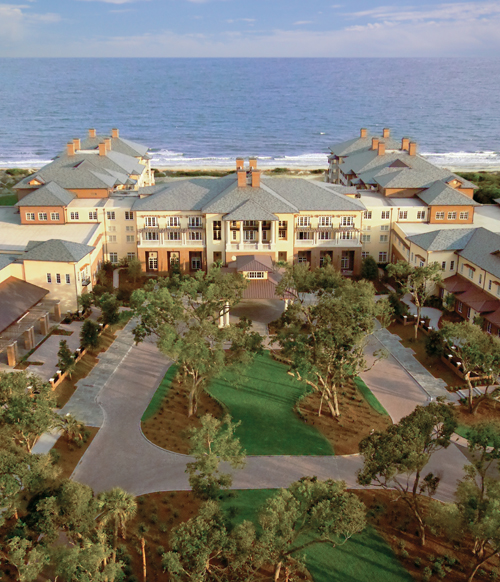 Alright, I understand: travel can be tedious and even annoying, if you fly the so-called friendly skies for business or even pleasure. Dragging your luggage on and off the parking lot shuttle and trudging fhrough a swarming airport of bumping into coughing, sneezing passengers doesn't sound like much fun, nor does waiting in a long line in order to remove your belt and shoes in order to complete security scanning. Unprepared or novice journeyers tend to up the impatience level when they try to jam oversized carry-on items into aircraft overhead compartments and slam down the door. The new computerized ticket kiosks and grumpy, understaffed attendants can make you feel herded in a less than human fashion.
I can sense you're nodding your head, and we haven't even yet broached the subject of the new cost attached to checking bags or the snug size of coach class seats.
Every once in awhile, though, a very civilized experience reminds me why I am a travel writer and why we are blessed with the freedom to move about the cabin and the country. Was it "southern hospitality," or just luck? Or, was it professional travel companies who understand that in a new economy with more discretion placed on discretionary income, you cannot take customers for granted. It was probably all of the above, in my case.  "
Waiting next to board my connecting US Airways flight to Charleston in Charlotte, North Carolina, I noticed a friendly, courteous, smiling gate attendant who exhibited what I would describe as an efficient yet sympathetic manner. I was the last to board, so I took a moment to give a little of the nice treatment I received back. I handed the woman my business card and said, "You run a very nice gate. Could you give my card to your supervisor and tell them how much I appreciated your professionalism?"
Surprised, she smiled broadly, thanked me, introduced herself as Sharon Blackmon, and, handing me a small piece of paper and a pen, asked me if I wouldn't mind writing my thoughts on a quick note to her supervisor. I didn't mind at all. In fact, through all four legs of my trip, US Airways seemed to have their flight and gate attendants smiling (and believe me, being in the front line, they hear and see it all bearing the brunt of flier frustration). Anecdotal? Maybe, but kudos if the positive attitudes are the result of a US Airways company-wide effort!
My first night in Charleston, I spent the night at The Woodlands, a stately yet quaint country home with 19 guestrooms, owned and operated by Salamander Hospitality, which is building a six-star-seeking reputation as a culinary Mecca with, already, AAA Five Diamond ratings for lodging and dining. I could see and taste, why The Woodlands is one of only six properties in the U.S. to earn that distinction. The cuisine and setting was vibrant and memorable.
"There is something about people from this area. They are happy and friendly and very welcoming," said Matt Owen, corporate director of public relations for Salamander Hospitality. When I realized I'd forgotten my blazer, Owen even suggested that a hotel staffer would be happy to go out and shop for me! No need, though, since The Woodlands has relaxed its "jacket and tie requirement" in order to help people relax over dinner. The French waiter paired wines for each course, and spoke eloquently, but not snobbishly, about the vino. It was a true education, and he seemed genuinely as excited about the meal as if he were enjoying it instead of serving it!
My Low Country journey continued 45 minutes east to The Sanctuary at Kiawah Island Resort. Best known for the world famous Ocean Course at Kiawah Island, the golf venue at which the 1991 "War by the Shore" Ryder Cup, won narrowly by the United States team, was held. The Ocean Course, designed by Pete Dye, will host South Carolina's first Major, the PGA Championship, in August of 2012. Kiawah Island Resort offers four other courses by big-name architects Jack Nicklaus, Tom Fazio, Gary Player and Clyde Johnson.
The resort offers varied rental options from condos to homes, but its' main hotel, The Sanctuary, is a triumph not only in its oceanfront grandeur and dining options, but also in the unbelievably friendly nature of every single staff person I encountered: valet, bellman, front desk, concierge, waiters and even chamber maids. Not all of them, of course, were Southerners, but they certainly seemed to enjoy being in the south…and, again, seemed as excited about the hotel as if they were the ones on vacation.
90-percent of The Sanctuary's large 255 rooms have ocean views, but the best view of all is what people in the hotel business call the "sense of arrival" experience. After you're been greeted by the valet and bellman, you are led into the grand lobby, where the elegant but warm décor, high ceiling, and large windows offer a view of the sea that made me stop in my tracks. "You had me at 'hello,'" is a famous line from the Tom Cruise film "Jerry MacGuire," and The Sanctuary, both in design and people, does just that.
James Taylor sang a song called "In My Mind I'm Going to Carolina." Like sweet baby James, I can't wait to get back!
For more information, visit:
April 25, 2010
Originally printed in the Lansing State Journal