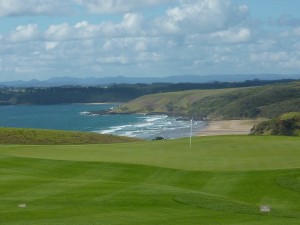 I have travelled to what some Kiwis describe as the end of the Earth, and guess what? It's rather more lavish than one would have expected from such an extreme location. There's an outstanding golf course perched precariously over the edge of a jagged cliff, a spa tucked into a ferned glade and a lodge and cottages that live up to lofty Relais & Chateaux standards.
Yes, it's a long way to go, but some places are worth the journey. Kauri Cliffs located on the Bay of Islands about a three-hour drive north of Auckland is remote and spectacular. Conde Nast Traveler named it the number one Lodge/Resort in Australia/Pacific region on their 2011 Gold List, The World's Best Places to Stay. Travel + Leisure readers have chosen The Lodge at Kauri Cliffs as the No. 1 Lodge/Resort in Australia, New Zealand, and the South Pacific in the 2011 World's Best Awards readers' survey.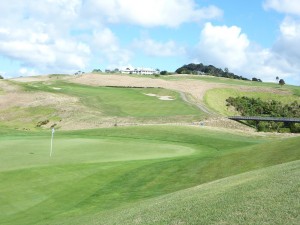 Named forty-ninth among Golf Magazine's Best Golf Courses in the World, Kauri Cliffs, designed by Floridian David Harman, clings to the top of steep, jagged cliffs overlooking the Bay of Islands and three private beaches. Fifteen holes have water vistas and six play oceanside on a layout whose slope rating swells to 144 from the tips. But with five sets of tees, everyone can find a challenge without a whipping. Every hole is unique and fantastic, but perhaps my favourite is the par-three fourteenth, named Waiaua Bay, where severe drop-offs from green to sea require utmost accuracy. A plaque dedicated to Harman by owner Julian Robertson behind the tees reads: "A designer can always make a golf course too hard. He can add bunkers, more walls, whatever he dreams up. The true test is whether or not he can use what Mother Nature gave him and turn it into something like you see here."
As one enthusiast opined in the guestbook, this makes Pebble Beach look boring.
After your game, take the footpath through a Totara forest to a lily pond fed by a winding stream to The Spa.  Outside comes inside in the form of orchids and ferns growing along an organically curving hallway which leads to spacious treatment rooms with floor-to-ceiling glass doors opening to alfresco spaces with fireplace, lounge chairs and the soothing sounds of the gurgling stream.
If you're lucky enough to be sharing this bit of paradise with a partner, go for the couple's massage that starts with an aromatherapy soak. Or indulge in your own ménage-a-trois with the spa's Four Hands Massage, during which two therapists perform a soothing duet over every inch of your limbs and spine.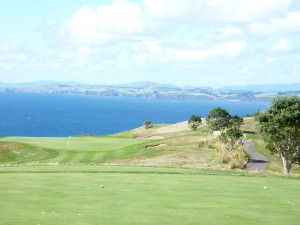 The culmination of an idyllic day is dinner, either in the intimate dining room overlooking the course and sea or down on the Lodge's private pink beach. The chef sources the finest Australian and New Zealand produce and dabbles with Asian, Middle Eastern and Indian flavours. Some signature dishes include seared scallops with a lemongrass sauce, duck leg on a scallion pancake with banana lime relish and chili jam or an aromatic tagine of pheasant, fig and ginger with spinach couscous and watermelon salad. Save room for dessert. This is no place to count calories or double bogeys. Simply indulge.