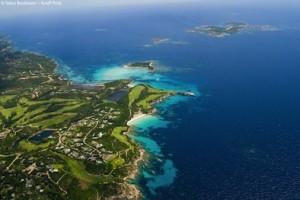 I'm sure there are plenty of courses in places you'd least expect to find them, but in order to qualify for my new "Golf there? You've got to be kidding!" list, both the courses and the destinations have to be sufficiently enticing for both avid swingers and those who would rather shop, eat, sightsee or relax.
The latest in my quirky new hit list is the Sperone Golf Club at the extreme south tip of Corsica. A series of volcanic eruptions formed Corsica making it the most mountainous island in the Mediterranean Sea. I've always been fascinated by this wild and somewhat mysterious region of France, birthplace of Napoleon Bonaparte (in Ajaccio), where French flare, Italian gusto and raw natural beauty create a sensual vibe.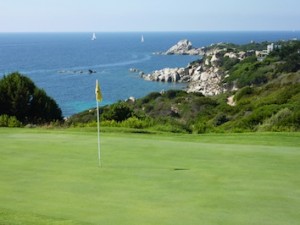 When I saw photos of Sperone, the island's only 18-hole golf course near the town of Bonifacio at the extreme southern end of Corsica, I was compelled to make the journey.
Sperone, designed by Robert Trent Jones Sr. and opened in 1990, is a ravishing drama queen. Turquoise waters, limestone cliffs and views of Sardinia (less than seven miles away) will all vie for your attention.
The front nine plays over an undulating terrain with sneak previews of the coast, but the series of fairways from numbers 11 to 16 clinging to cliffs and running parallel to the impossibly blue sea have earned Sperone the moniker of "The Pebble Beach of Europe."
By modern standards, Sperone is relatively short at 6,678 yards from the tips, but when the wind howls in from the Straits of Bonifacio you'll need to club up. The 11th begins with a blind dogleg left. As you approach the crest, the hills of northern Sardinia spread out to frame your approach. On the par-three 12th your tee shot must carry Corsica's wild ground cover called maquis for most of the distance. I played with a local who gathered sprigs of wild myrtle, mint, rosemary and more into a heady bouquet for our golf cart. "It's the smell of Corsica," he said.
You can walk Sperone but be prepared for a workout. The 13th is a short par-four that continues along the coast, drivable if the wind is cooperating. Between 13 and 14 you'll pass the walking path down to private Sperone Beach, a secluded crescent of white sand lapped by turquoise. Make sure you've packed a swimsuit for a return dip at the end of your round.
Just when you're thinking, "Wow does it get any better than this?" Yes. You're about to see why Sperone's signature par- five 16th was named " one of the top 500 holes in the world" by the editors of Golf Magazine in 2000.  Tee off in front of an abandoned lighthouse over white cliffs to a serpentine fairway that winds its way along the cliffs to another marvelous seaside green.
Alas, it's time to head inland back to the clubhouse but not before the tight downhill par-three 17th and a long 493-yard par-four uphill finale.
The modern clubhouse features a terrace offering grand views of the course and sea, plus superb food.
When you Go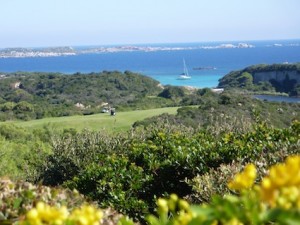 Bonifacio is situated on two levels: the port/marina which is surrounded by cafés and shops upscale enough to appeal to the mariners who moor their mega-yachts here; the old town, perched high on limestone cliffs.
Back at the marina, Kissing Pigs is a favorite wine bar and eatery amongst the sailors and locals alike. They serve only authentic Corsican fare, such as charcuterie made from indigenous black pigs. Chestnuts are another staple from which the chefs turn out bread, pastries and a slightly sweet liquor.
Another way to be awed by Bonifacio is via the sea itself. Take an excursion out of the marina around the spectacular cliffs, past fanciful rock formations and into deep grottos. Now you'll be tempted to sign up for a scuba or snorkeling session.
Bonifacio is most easily reached from the Figari Airport, half an hour away. There are also ferries from Marseilles and other Mediterranean ports.
I stayed at the three-star Solemare , conveniently located within a short walking distance to the port and upper town.