Maybe money can't buy happiness, but it sure can buy some spectacular bragging rights at two of the planet's top-rated golf courses in New Zealand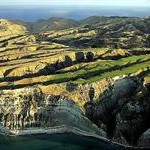 Captain James Cook and the crew of the HMS Endeavour were probably the first non-Maori to set eyes upon Hawke's Bay, New Zealand in October 1769. Upon Cook's arrival, a group of Maori in canoes paddled out to trade. Probably as a result of language problems, Cook discovered that the Maori had taken his Tahaitian cabin boy (who he probably kidnapped himself) in exchange for some trinkets. Cook subsequently named the area where the incident occurred Cape Kidnappers.
Almost 250 years later, in 2002, after a battle with environmentalists,  Julian Robertson, a former hedge funds manager  from New York, commissioned noted American architect Tom Doak to sculpt Cape Kidnappers Golf Course on this spectacular coast of New Zealand's North Island near Napier.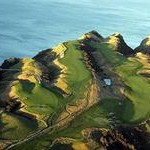 Cape Kidnappers is an actual landform unto itself, a triangular headland where white cliffs jut eight kilometres out into the Pacific Ocean. Minimal earth was moved the this natural site that looks as thought it was carved by a giant set of fingernails, with deep crevasses only overshadowed by 500-foot sheer drops into the Pacific.
Hole names such as Infinity, Widow's Walk and Pirate's Plank, where golfers are warned to not "even look over the left edge of the fairway if you are afraid of heights"—reflect the imposing nature of the landscape.
Travel + Leisure Golf named Cape Kidnappers its Course of the Year in 2004, and Golf Magazine plunked it in as number 27 of the world's top one hundred courses only one year later. Now in its new ranking of all golf courses located outside the United States, Golf Digest U.S. — the definitive source of world course rankings since it pioneered the practice in 1966 — has placed both Cape Kidnappers in Napier (#6), and its older sister, Kauri Cliffs GC in Bay of Islands (#19), in its prestigious Top 100 list.
Yes, it's a long way to go, but we're talking trophy courses extraordinare, plus superlative creature comforts. Both Cape Kidnappers and Kauri Cliffs (about a three-hour drive north of Auckland) are remote and spectacular.  And rather more lavish than one would have expected from such extreme locations. Apart from the highly acclaimed golf courses, both offer luxurious accommodations, spas and gourmet dining that live up to their lofty Relais & Chateaux standards.
In 2010, The Farm at Cape Kidnappers, located in the heart of New Zealand's thriving wine region, was named to Travel+Leisure's "World's Top 50 Hotels". The Farm was also named among the "Top 20 International Hideaways" according to the Andrew Harper Readers Choice Awards.
Not to be outdone by its younger sister, the Lodge at Kauri Cliffs, a veranda-wrapped plantation house with adjoining guest cottages, was named the sixth best hotel in the world, according to the 2011 Condé Nast Traveller readers' poll and the number one Lodge in Australia and all Pacific Nations on the magazine's 2012 Gold List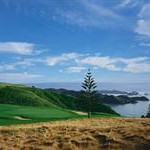 The course at Kauri Cliffs, designed by the late Floridian, David Harman, clings to the top of steep, jagged cliffs overlooking the Bay of Islands and three private beaches. Fifteen holes have water vistas and six play oceanside on a layout whose slope rating swells to 144 from the tips. But with four sets of tees, everyone can find a challenge without a whipping.
Every hole is unique and fantastic, but my favourite is the par-three fourteenth, named Waiaua Bay, where severe drop-offs from green to sea require utmost accuracy. A plaque dedicated to Harman by owner Julian Robertson behind the tees reads: "A designer can always make a golf course too hard. He can add bunkers, more walls, whatever he dreams up. The true test is whether or not he can use what Mother Nature gave him and turn it into something like you see here.
As one enthusiast opined in the guestbook, "This makes Pebble Beach look boring."
In August 2010, the Robertson family oversaw grand opening of Matakauri Lodge in the adrenaline sports mecca of Queenstown, on New Zealand's South Island. By partnering with two superb courses in Queenstown, The Hills GC and Jack's Point, the Robertson's were able to create a comprehensive Kiwi golf tour. The Ultimate New Zealand Golf Package includes nine nights across the three lodges, four courses, and the country's two islands. Per-person pricing ranges from approximately $7,900 CDN in the low season (May through August) to $10,400 CDN in the high season (November through March).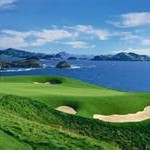 Big bucks, yes; but think of the  bragging rights.