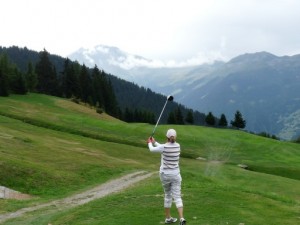 "Golf on top of the world" or "extreme mountain golf" might be the slogans at Verbier, one of Switzerland's top ski resorts in the southern Valais region.
Golf began here in 1969 with a pitch-and-put course in the heart of the resort. In 1984 18-hole, par-69 Les Esserts course was completed 1,600 m high above Verbier village .
Your ears might pop as you tackle this challenging gem that traverses winter ski runs. So steep is the terrain that the club captain introduced sheep to "mow" the grass.
Number one is a seriously uphill par-three to a waterfall to the left of a green that teeters over the village of Verbier 1,600 far below.
Accuracy is crucial as many tee shots are blind. Aim for the striped "barber pole" and cross your fingers. Some holes require a billiard game strategy: Bank your Titleist off the side of a ski hill with the hopes that you will get a favourable bounce onto the fairway or green.
The tenth green is like an island floating in the sky with the peaks of Mont Blanc and Grand Combin in the distance. Take a photo then aim for heaven.
The less extreme back nine will give you a chance to shave down your score. Verbier, is a lark, complete with grazing sheep, Heidi huts and golfers who yodel instead of yelling fore. It's the longest 4,825 metres you'll ever play!
When you Go
Verbier, situated in the heart of Val de Bagnes, is the home of Switzerland's raclette, a dish of cheese melted and scraped onto the plate and accompanied with boiled potatoes, pickled onions, gherkins and dried meat. They've perfected it and fondue (with truffles) at Le Chalet d'Adrien. Verbier's nightlife scene rocks all over town. For a nightcap, head to Crock No Name.
From the rail station at Martigny, take another train to Châble where you transfer onto a bus.
I stayed at the family-run, chalet-style Hôtel de la Poste.