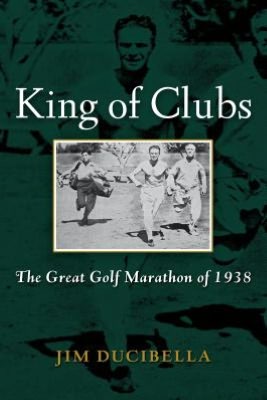 It would be remiss to use words like charm and innocence to describe 1938. After all, that was the year when Hitler annexed the Sudetenland and Japan was completing the rape of Nanking; unemployment was still rampant all over the western world. But there was, nevertheless, something charming and innocent about the times, and that quality is captured in Jim Ducibella's new book, King of Clubs: The Great Golf Marathon of 1938.
Ducibella has unearthed a nearly forgotten bit of golf lore, studied it thoroughly, and packaged it in a brief (125 pages) and entertaining story. It's about J. Smith Ferebee, a native Virginian who was working as a stockbroker in Chicago in 1938. He played golf at Olympia Fields, site of the 1928 and 2003 U.S. Opens, and he was a man of remarkable fitness and tenacity. Ferebee also liked to wager.
These traits and proclivities came together in a couple of marathon golf stunts. Maybe it was the Depression and the way it demanded endurance from the suffering. Maybe it was because people back then had longer attention spans than the Twitter generation has. Whatever the reason, marathons of all sorts were popular in the Thirties. There were dance marathons. There were six-day bicycle races.   Somebody named Alvin "Shipwreck" Kelly made a name for himself by sitting atop a flagpole for weeks at a time.
J. Smith Ferebee cornered the market in golf marathons. He was not a great player, rarely breaking 80. But he could play at a pace of roughly a stroke a minute. In August, 1938, he bet a friend that he could play 144 holes, or eight full rounds, in a single day, with no round over 95. Even though it rained on the appointed day, Ferebee won that bet, teeing off in the pre-dawn darkness and finishing after 8 p.m. Ferebee drank a beer called Fox DeLuxe between rounds and was assisted by a tireless caddie, Art Caschetta.
The bet, ostensibly, involved a piece of Virginia land that Ferebee owned jointly with another Olympia Fields member, Fred Tuerk. But author Ducibella's research  found no evidence that any property changed hands as a result of the marathon. Ferebee essentially did it for fun and whatever side bets he was able to arrange with Olympia Fields members who doubted him.
Olympia Fields in those days gave complimentary memberships to more than a dozen Chicago sportswriters and editors. Not coincidentally, Ferebee's 144-hole feat was well-covered in the Chicago press. Almost immediately, golfers in the Midwest began to report that they had exceeded Ferebee's total. With his new status as golf's marathon king in jeopardy, Ferebee put together a new proposition. He would play 600 holes of golf over four consecutive days in eight different cities.
And  he did, with the help of a DC-3 chartered by the Trane Company as a public relations ploy. Exhausted and in pain, he took the last stroke in front of Mayor Fiorella LaGuardia of New York, site of the 1939 World's Fair. The fair had contributed $1,000 to Ferebee's effort, also as a publicity gambit.
Now we live in an era when artificially minted celebrities cash in on even their weddings for sponsorships and "reality" television series. But while a bet on land was again ostensibly behind the ultimate marathon, there was no evidence that Ferebee profited much, if any, from his endurance. He took a few days off and went back to selling stocks. After serving in World War II, he moved to Virginia, where he died in 1988. His story would likely have been forgotten had not his widow donated his papers to Virginia Military Institute, where Ferebee once studied. Ducibella heard about the archive, got interested, and spent five years researching the story.
Ferebee's is, I suspect, golf's most impregnable record. Someone will one day win more than Jack Nicklaus's total of 18 major titles. But who would want to break Ferebee's mark? It comes from an era that will not be seen again.