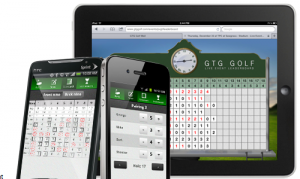 Our Golf Road Warriors trip to Reynolds Plantation was enlivened by the use of a smart-phone app (it also works great on on tablets and laptops) from Grow The Game Golf. One of the company's co-founders, Ryan Ripa, the young company's biz-dev expert, was in a group with me at Great Waters and shot himself a rocking-chair 78 on that stout layout by Nicklaus. Along with showing fine form, Ryan also helped the rest of us understand the
real-time value and enjoyment factor of having a "live-event leaderboard and event-management tool" when you're playing recreational golf.
Instead of writing down scores with a pencil on a printed scorecard after each hole, you enter them on your tablet or phone, using a formatted screen. If you do that, all sorts of possibilities emerge. The mystery of what the other players in your 8-, 12-, 16- or however-many-player group are shooting disappears, and now you are really grinding. Or perhaps gloating—when you see that your twosome is five up with six to play, or your foursome
is whipping the others.
Golf outings for corporations and charities really need this technology. I've written lots of trade-journal articles about the group outing business and what I've realized is that golf spreads a group out. You go to the course as a group of, say, 60 people, and you spend 80 percent of the time communicating with just three others. That's not the unifying force that it could be. Real-time leaderboard software—including the trash-talk capability soon to be added to the app—is the answer to the "diaspora effect" of big golf outings. They are meant to bring folks together, but organizers find that the course's 150-acre expanse basically spreads them out. With a web visit to gtggolf.com, those organizers might find a way to make unity out of diffusion, at their next event.