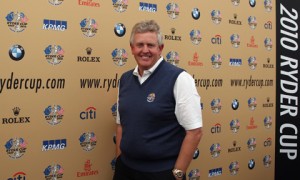 Every year before the Ryder Cup, stories appear about how the captains' effect on the matches is overrated. Then the Ryder Cup happens, and in the post-match analyses we start reading about how greatly the captains influenced the outcome.
Part of this is human nature, of course. The results color our perceptions of the captains' influence. If a team wins, and the captain was fiery, we tend to think that's just what the team needed. If a team wins, and the captain was calm, we tend to think that's just what the team needed.
But, darn it, it's tough to watch recent Ryder Cups and not think that the captains didn't play a vital role. Paul Azinger and Colin Montgomerie seemed pitch-perfect for their respective teams in 2008 and 2010, and that's a statement that could have been (and was) made before the result was known, and not just after.
Let's start back in 1997. I generally take a rational outlook on things, but I had to make an exception going into that Ryder Cup, where Seve Ballesteros was the European captain with the matches being held in his native Spain. Nobody was more passionate about the Ryder Cup than Seve. And no Ryder Cup was bigger for a Spaniard than this one being held on their soil.
I had a sense going into those matches that there was no way he was going to lose a Ryder Cup in Spain; that Seve was going to somehow will the Europeans to victory. Losing wasn't an option. That's just what happened: During the matches, Seve was such a visible presence that he somehow appeared to be two or three places at one time, exhorting his team on, and the Europeans (underdogs on paper, even at home) came out on top.
U.S. captain Tom Kite ended up being criticized, I think unfairly. He was a perfectly fine captain; he just had the misfortune of being matched against an indomitable force.
Next came 1999 and the Miracle at Brookline. Through Saturday evening, frankly, Ben Crenshaw looked like a fairly ineffective U.S. captain. He meandered rather aimlessly through most of his news conferences, including the one on Saturday evening with his team down 10-6. Until, that is, he memorably wagged his finger and said, "I have a feeling."
While it seemed a little loopy at the time, it was a statement that showed his team he believed in them, a sentiment that was undoubtedly reinforced in the team room later that evening. The stirring comeback the next day ensured Crenshaw's legacy as a captain.
His counterpart, Mark James, looked pretty good through Saturday, except for his inexplicable pick of Andrew Coltart over Bernhard Langer for a captain's selection. It seemed even more of a strange choice when he sat Coltart for all of the first four sessions.
James also sat Jean Van de Velde and Jarmo Sandelin for those first four sessions. It was actually a defensible strategy, maximizing his points in the foursomes and four-balls by riding his best players and sitting out the weak ones. Less defensible (along with the Coltart pick) was sending out those three players 2-3-4 in Sunday's singles lineup. They all got blitzed, fueling the U.S. comeback, and James's strategy was panned.
In 2002, U.S. captain Curtis Strange also got panned for his strategy in holding out his best players until the end of his singles lineup, while Sam Torrance front-loaded his. I don't think the flak Strange got was warranted. He was going with conventional wisdom at the time, which said you held your best players until the end in case the match is decided late. In fact, the matches were tied 8-8 heading into the singles, so it looked like it would come down to the wire.
This is a case where his players didn't come through. The U.S. fell behind by two points early, but should have made up the ground with their heavyweights on the back part of the lineup. They simply didn't deliver, rendering Tiger Woods meaningless in the 12th match, which was widely ridiculed. The upshot is that never again will a captain put his best player out 12th—though 2010 showed that you'd better put a strong player there, just in case.
Torrance deserved some credit for creative thinking (or maybe it was simply a reaction to the singles disaster of 1999) in putting his best players out first, but his players deserved more credit for making it work. Torrance's most valuable contribution, perhaps, was in the team room. He's viewed by many as perhaps the best European captain at inspiring his men to their best efforts. All in all, though, 2002 was not a captain's mismatch.
The concern about European captain Bernhard Langer in 2004 was that he was nothing like Torrance: too cool, too clinical, and not so inspiring. Of course, after Europe routed the U.S. on American soil, he was hailed as a meticulous captain who left nothing to chance and made few mistakes—which was true enough.
Meanwhile, U.S. captain Hal Sutton was pilloried. Mostly it was because of a controversial idea gone spectacularly wrong—putting Tiger Woods and Phil Mickelson together as a team. When they went 0-2 and the U.S. was blown out, Sutton's legacy was sealed, and not in a good way. His "cowboy" persona also rubbed some observers the wrong way, which didn't help his reputation. I would give Langer an edge in this captains' match-up—but not an edge as wide as the European victory margin.
Europe swung back to a Torrance-like, emotional captain with Ian Woosnam in 2006. Some questioned how he would be as a tactician, but he did fine in that regard. In fact, Woosie's captain's selections of Lee Westwood and Darren Clarke, with the purpose of playing them together as a team, paid big dividends. And the fun-loving Woosnam helped to create that perfect European Ryder Cup atmosphere where the players can have a blast while still playing with intensity.
Tom Lehman did his best to try to instill a team atmosphere for the U.S., with limited results. It didn't help that his team wasn't that strong (Vaughn Taylor and Brett Wetterich?) or that the matches were in Ireland, so he might not have been dealt a strong enough hand for us to be able to evaluate him.
Paul Azinger clearly made a difference for the U.S. in 2008. The Americans' Ryder Cup fortunes were at a low ebb, coming off two desultory performances. Azinger was a man with a plan, starting with his insistence that the PGA change its qualification procedures to field a stronger team and continuing through his four-man "pod" system to facilitate bonding. He was a great interview for the press and his enthusiasm for the Ryder Cup rubbed off on his players—and on the spectators, too, creating a dynamic atmosphere at Valhalla.
While Azinger duly got the credit, Nick Faldo got plenty of blame, especially in the British press. As a producer for www.GolfObserver.com, I was responsible for linking to stories in the U.K. newspapers, and I can attest that he was universally derided as a terrible captain.
At the time, I felt this was an overreaction based on the writers' personal dislike of Faldo. True, he was an embarrassment on some public occasions, notably the opening ceremonies where he gave a painfully rambling speech and, when introducing his players, had to ask Graeme McDowell if he was from Ireland or Northern Ireland. I attributed that to Faldo being somewhat of a space cadet. But he did make some good moves, like making Ian Poulter a captain's pick.
But after watching Colin Montgomerie in 2010, I now agree that Faldo did a poor job. Space cadets don't make good captains, especially when the opposing captain is a man sweating every detail. Spending most of his time as an announcer in the U.S., Faldo didn't have much of a connection with his players. The leadership, chemistry, and inspiration just weren't what they usually are on the European side. That's what McDowell meant at Celtic Manor last week, when he said during the practice rounds that Europe had the "X-factor" that was missing in 2008.
Of course, these guys are professionals, and none of this means Europe was doomed to failure. If some of the team's key players' swings or putting strokes were in better shape at the time, they could have overcome that missing "X-factor" and won the matches. Then Faldo would have been hailed for the brilliance of his Poulter pick and for putting out his better players late in the singles lineup (assuming Europe won by a close score).
In the Ryder Cup that just ended, it was clear that Montgomerie has a passion for the Ryder Cup, and that playing with passion was the message he effectively delivered to his players. When they were down 6-4 after two sessions, he wasn't afraid to get in the players' faces and tell them they needed to play with even more fire. He was able to do that because he had bonded well enough with his players by that point that they heeded what he had to say.
This Ryder Cup meant the world to Montgomerie. He knew it and his players knew it. A victory, and his Ryder Cup legacy would be sealed. A loss and it would be tarnished, despite his outstanding record as a player. Next to Seve, he's the quintessential European Ryder Cupper.
But Montgomerie managed to handle the situation in a more amicable manner than the ultra-intense Seve. Monty is articulate, even charming at times, and enjoys the repartee with reporters (at least the Good Monty does—and, fortunately the Bad Monty did not make an appearance). He was the star of the press conferences all week. The only bad note, perhaps, was when he expressed "surprise" at a couple of U.S. captain Corey Pavin's lineup moves—"surprise" being a euphemism for, wow, that's a mistake. But those lineup moves ended up working out pretty well for Pavin.
Montgomerie's tactical moves turned out worked well enough. In retrospect, he did make a mistake picking Padraig Harrington over Paul Casey for the team, though I agreed with the pick at the time. Harrington struggled throughout the matches, but, fortunately—and this was a good lineup move by Montgomerie—he was rescued by the play of partner Ross Fisher in two matches.
Pavin, by contrast, was almost completely dispassionate. In press conferences, he was so guarded that you would have thought national security secrets were at stake. I don't think a single interesting utterance passed his lips the entire week. On the course, watching the matches, he was unemotional. When Stewart Cink holed a huge putt to turn his match on the 17th hole on Saturday, Pavin remained stone-faced. He was seen smiling with his players a few times. But never did he look like he was trying to pump anyone up or look remotely excited himself. And nobody gave any indication that Pavin turned into a screamer or a motivator behind closed doors.
What happened to Corey Pavin the bulldog, the ultimate competitor?
What we found out was that we were confusing his game with his personality. As a player, Pavin was smaller than most of his fellow competitors and his game did not look particularly impressive. He seemed (and this was probably an illusion) to succeed by strength of will.
Really, though, his personality was always relatively placid. Dull, even, as his Ryder Cup captaincy revealed.
Did the U.S. team need more fire? Well, they're big boys who know how to handle themselves, so maybe not, though I can't help but thinking a little more couldn't have hurt.
Pavin's decision-making didn't appear to hurt the team, and might have actually helped. I thought his singles lineup was nearly perfect. He put out the players who had performed well that week at the top of the lineup, correctly anticipating that Montgomerie would put his strength at the top. Then he put Tiger Woods and Phil Mickelson at Nos. 8 and 10, where they went up against weaker players from Europe. Looking at the singles match-ups, I didn't see a single one that Europe was sure to win, given that Steve Stricker was a formidable opponent for Lee Westwood, while I felt that Woods and Mickelson were pretty much good for two points for the U.S. The only mistake, perhaps, was going along with Hunter Mahan volunteering for the 12th spot, but that's hindsight.
David Whitley on AOL Fanhouse put it best when he said, "Somebody please wake up Corey Pavin and congratulate him" on a good job.
Are captains the deciding factor of the Ryder Cup? No. Can they make a difference? You bet.