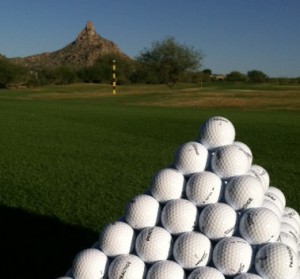 "Success is 1% inspiration, 98% perspiration and 2% attention to detail"       – 'Phil's-osophy'– Phil Dunphy of Modern Family.
Hours on the range don't always appeal to everyone and this time of year with busy schedules.  We must get creative with our practice skills.  Whether it's the travel or lack of time, try these visualization drills to keep your game sharp when you can't make it to the course:
1. On your computer, phone or video, replay your  own swing or a professional's swing that you admire again and again. Notice the new swing positions that you want to achieve for yourself.
2. Close your eyes and see yourself swinging with your new and improved golf motion. Repeat this as many times as you can while still maintaining focus.  This visualization drill works great for putting too!  In your minds eye, see yourself making various types of putts.   Alter the distances and breaks. . .you can't miss!
3. In your mind's eye, play your favorite golf course from start to finish.  Hit each shot and putt exactly how you would intend to play each hole flawlessly.
4. Close your eyes and play a hole or a shot in your mind that challenges you (or has given you trouble in the past). Make the shot "picture perfect " every time.
Dodie Mazzuca is the Director of Instruction at Troon Country Club in Scottsdale, AZ (Oct-May).  She also teaches golf in Santa Cruz, CA (May-Oct).  To contact Dodie visit: www.DodieMazzuca.com