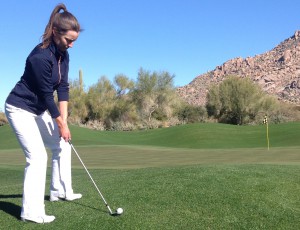 "The foundation of a solid short game comes from visualization, routine and confidence"- Dave Stockton
The entertaining aspect of the short game is that there are so many options! This is the creative part of golf.  For the new golfer, short game can often be the most confusing part of the game. In the rare occurrence that you miss a green (pssst. . .the best in the world hit less than 70% of the greens in regulation on a good day), use this simple process to help you make a confident decision:
Option 1: Putt. If you can putt it, putt it! This is always the best choice if the shot allows for putting.
Option 2: The Low Shot. (Chipping, low runner, bump and run)  Choose this shot when you have lots of green to work with and the ball rests in a good lie.
Option 3: The High Shot. (Pitching, Lob Shot) Select this shot when you are behind a bunker or you need to carry over a steep mound, rough, etc.    With very little green to work with)
These are just the basics and will simplify the decision making process. There are lots of other creative shots to learn!
Dodie Mazzuca is the Director of Instruction at Troon Country Club in Scottsdale, AZ (Oct-May).  She also teaches golf in Santa Cruz, CA (May-Oct).  To contact Dodie visit: www.DodieMazzuca.com