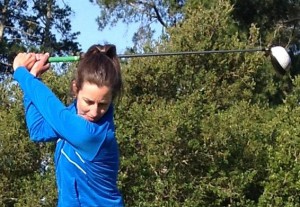 Your 30 handicap opponent hasn't made more than a par, every putt has lipped out, you finally hit a fairway and now your ball is deep in a divot.  What do you do? Contemplating the "helicopter toss" with your hybrid, or perhaps the "javelin throw" ?
Let's break this down before you actually break a club.  Letting your emotions run wild is GOLF'S UNFORCED ERROR. Every sport has them. Unfortunately in golf, with an emotion like anger, if it is not contained, directed or distracted it will build and sabotage performance.
Managing emotions is a skill.  A skill that requires repetition. Just like we practice our full swing, anger management systems need to be trained. Create drills and routines that break the mental meltdown habit. Catch yourself before anger turns into rage. (Try counting, sing your favorite song, think about wine, chocolate, puppies!)
It takes discipline to manage anger but it's nothing mysterious, just mental training. The long term side effects include resilience, optimism, and lower scores!
Dodie Mazzuca is the founder of Golf PROformance, Director of Instruction at Troon Country Club in Scottsdale, AZ (Oct.-May) and teaches golf in Santa Cruz, CA (June-Sept.).  For more information, visit:  www.DodieMazzuca.com