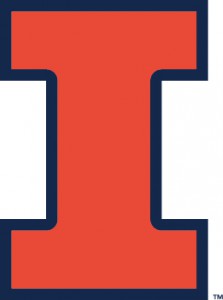 Opinions are flying around about Bill Cubit this week.
–He needs to beat Northwestern on Saturday to make Illinois bowl eligible, which would prove he deserves to keep his job.
–He should be gone no matter what happens on Saturday, because Illinois should aim higher.
Let me present another option: Cubit should be given the job no matter what happens on Saturday.
Here are two good reasons.
First, he already has proven he deserves it. He's an excellent ambassador for the university. Certainly the best, all things considered, since Ron Turner, and arguably much farther back than that. That matters in college.
Cubit also has already demonstrated he can coach. He's run a really good offense with the personnel he's had in Champaign. Ironically, if Beckman hadn't stumbled upon Cubit as his offensive coordinator, Beckman most likely would have been torpedoed sooner for lack of on-the-field success.
This doesn't involve wondering if the latest Mid-American prodigy will translate at the Big Ten level. Or seeing if some fancy genius can work his magic in Central Illinois—and stay in Central Illinois.
Cubit already has shown he can work with what Illinois has.
Second, letting an interim athletic director hire a new coach makes no sense. Sure-fire candidates aren't going to take a job when they don't know who their long-term boss is.
Even if a new athletic director is hired in the next 10 minutes, he won't have time to make the kind of long-term football hire everyone wants at Illinois.
What Illinois needs to do is give Cubit a three-year deal with a reasonable buyout. Give him the chance to prove he can recruit a bit. Nobody has recruited consistently well to Illinois for decades, but a clever coach like Cubit might find enough talent to keep Illinois reasonably competitive.
He should be congratulated for winning five games with this group, not questioned. How many more games would Urban Meyer or Nick Saban have won with these Illini?
If the wheels fall off next fall, then take another look. A new coach is merely going to be trying to put on the wheels next fall, anyway.
Get the house in order. Build the foundation. Find the new athletic director first and give him time to make a plan. Even that is going to be awkward because the new AD is a virtual lock to be hired before the new chancellor.
The new AD is going to have a lot on his plate. While everyone is focused on football, attention needs to be paid to men's basketball. That's the sport where Illinois has not been meeting expections despite a huge upside.
Football is a tricky deal at Illinois.
The last four hires were a defensive guy (Lou Tepper), an offensive guy (Ron Turner), a Pied Piper recruiter (Ron Zook) and the Next Great Thing from the MAC (Tim Beckman).
None of them left Champaign with a winning record. Since Ray Eliot left in 1959, only two Illinois coaches have won more than lost. One of them, John Mackovic, bolted for a better job. The other one, Mike White, got into NCAA hot water.
There's nothing wrong with wanting to aim higher than Cubit. The desire to find a brilliant young coach who's going to win and be in place forever is understandable.
But Mike Thomas just tried to do that. In football. In basketball. In women's basketball. And he did it virtually overnight.
How'd that turn out?
Under-valuing Cubit because he's older and already in place–and going out and hiring a new coach the way you do last-minute Christmas shopping—is not only not advisable.
It runs the risk of setting up Illinois for another prolonged period of angst while trying to bounce back from another mis-hire.
Doing it the right way makes more sense than doing it the quick way.