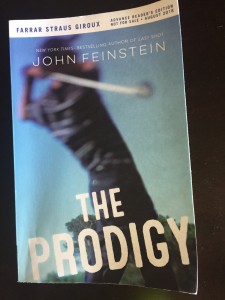 John Feinstein is a storyteller with a very conversational writing style.
It's a nice combination. Reading one of his books feels like you're listening to him while enjoying a good cup of coffee or a relaxed meal. I say this from first-hand experience.
The prolific Feinstein is best known, of course, for engrossing nonfiction tomes that are entertaining, informative and thorough.
His latest effort, The Prodigy, is a bit of departure from the formula that began with his breakout Bobby Knight book, A Season on the Brink, and that has continued through his various sports passions, notably his golf bestseller, A Good Walk Spolied.
It may be a different side of Feinstein but it shouldn't be.
Almost one-fourth of his nearly 40 books are sports fiction novels for young adults. I knew he had written some of these. I didn't know he had written that many.
Judging from The Prodigy, it's an easy transition for him.
The Prodigy tells the story of Frank Baker, an exceptional high school golfer who excels his way to the Masters.
The central conflict revolves around Frank's almost unbelievably pushy father, who wants to cash in on his son's golf excellence—without regard for his son's wishes or well-being.
I say "almost unbelievably pushy'' because there are examples of parents like that. Tiger Woods' dad, Earl, was driven—and created a son who has paid a high personal price for his athletic success. Former USC quarterback Todd Marinovich, who played briefly for the Raiders, is another example that comes to mind.
Once we accept the premise of the relentless stage father—and Feinstein sells it well—The Prodigy is chocked full of inside-the-ropes golf.
While it is aimed at a Young Adult audience, the book should be of interest to golfers who want an inside look at how tournament officials and media operate. Feinstein also paints some brief but nice sketches of some of the biggest stars in golf. Players like Rory McIlroy and Jordan Spieth all share cameos in The Prodigy. The biggest (and most fun) cameo, though, might be of longtime USA Today golf writer Steve DiMeglio. Can't wait to see his take on Feinstein's new book.