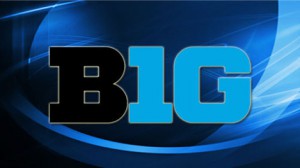 No question, there are too many bowls.
With 40 of them, nearly two-thirds of all college football teams play in post-season games. Which means the quaity is not going to be great.
By my count, at least 10 Big Ten teams are playing in bowl games. (I can't be certain; I ran out of fingers.)
Nebraska, making a bowl trip despite a 5-7 record, needed a win to avoid its first eight-loss season since 1957. I would assume—or at least, hope—that there has never been an eight-loss bowl team anywhere.
And yet. . . for all my rants, I wound up watching.
I caught the end of Indiana's overtime loss to Duke in the Pinstripe Bowl and Nebraska's survival test over UCLA in the Foster Farms Bowl on Saturday.
And even though I knew this was not what you would call good football, I watched. And I was entertained.
The Indiana game was totally inadvertent. I fired up my DVR long after the game had ended, intending to watch the 6 p.m. local news. But there was IU, surrendering a game-tying touchdown near the end of regulation. And missing a field goal from New Jersey that could have won the game for the Hoosiers in regulation. And then, missing a makeable field that would have forced a second overtime.
I felt bad for the kicker, Griffin Oakes, who's basically a good kicker. After badly hooking a ridiculous 56-yard attempt, he apparently over-compensated, barely missing a 38-yarder wide right.
All of that angst gave Duke its first bowl win since 1961.
David Cutcliffe and his players were so happy.
It was fun. . .
Indadvertently watching IU-Duke on tape reminded me that the Cornhuskers were trying to avoid their eighth loss. Since many of them had been amazing late meltdowns for any school, let alone a storied program like Nebraska, the question of whether there would be another trainwreck was compelling.
When UCLA cruised down the field early in the fourth quarter for a TD and a two-point conversion to close to a 37-29 deficit on Nebraska, which had led by 16, the Cornhuskers seemed on the verge of another collapse.
The Bruins mounted another promising drive, but that sputtered and fizzled at the Nebraska 17 yardline when Josh Rosen, UCLA's talented young quarterback, tried to do too much. He was running around before the snap, moving teammates around so much that he didn't even see a shotgun snap coming. That fumble dropped the Bruins back to the 28 yardline, where they missed a field goal with 5:49 left.
UCLA got the ball back thanks to Nebraska's defensive offense, but Rosen & Co. remained too skittery for their own good. And Nebraska was able to hold on.
Clearly, neither of these games were great football by regular-season standards, let alone any post-season measure.
But they were pretty fun.
To sum up: While I know there's something wrong with giving out bowl bids like diplomas from kindergarten. . .  if these darned games are on television, people are going to watch them. Even me.
ESPN knows best.