Liz and I were excited about playing at Royal Aberdeen. But we also were apprehensive.
Our friends had played there a few days earlier and warned that it was a very difficult and perilous course. "You really need to have a caddie there,'' Bruce, who knows we don't usually take caddies, said repeatedly.
In addition, Royal Aberdeen is a private club that has a strict dress code and requires proof of handicap (24 for men and ladies, although they didn't check), the most rules we encountered in our Scotland booking experience. And when we pulled into the car park, many of the temporary buildings needed for the Scottish Open, which would be played there in less than two weeks, already in place.
It was all very exciting, though. Even if it was enough to make me wonder if I could sort through everything and play reasonably well.
But the young man in the pro shop was very friendly, and the clubhouse was a classic. As we rolled a few balls on the putting green, we could see a bunch of small ships anchored in the North Sea beyond the first hole, which trundled down toward the water.
Noticing two young men on a bench we introduced ourselves to our caddies, and soon we were off.
The first hole is an excellent starter—downhill and wide enough off the tee. And the first tee sits right next to the bay windows of the clubhouse for all to see, so it was all very exhilarating.
Obviously over-excited, Liz struggled off the tee. My modest shot benefitted from the firm downslope, but still left an interesting approach over a deep hollow about 70 yards in front of the green, which had a false front, especially on the left side where the pin was.
Breaking from my usual tendency to come up short on delicate greenside shots in an unconscious attempt to impress my caddie, I promptly over-cooked my short pitch to the back of the green and three-putted.
I hate when that happens.
I also botched No. 2, a par five that required a solid tee shot, my swing rapidly approaching warp speed.
No. 3 was a par three, but it measured 210 yards from the yellow visiting men's tees, and it was pretty much all carry. Into the wind.
This might be the most difficult tee shot on the course,'' my caddie said.
After sighing, I took a deep breath and dug in, determined to make my best driver swing—because there was no choice.
The shot cleared all of the mayhem and nestled on the front of the green. Never mind that the flag was in the back, and I left my first putt way short. Despite settling for a three-putt bogey, I was headed in the right direction.
Still, it was difficult to get into a good rhythm. The front nine at Aberdeen, regarded among the world's best, was a full plate. It's beautiful, an interesting and challenging set of classic links holes set beside the North Sea.
And while our caddies, William and Zack, were exceptional—bright young men who are about to embark on careers after recently finishing their university studies—I realized Liz and I hadn't had much chance to visit.
While I enjoyed chatting with my caddie, and learned a lot about Aberdeen and its thriving North Sea oil business, Liz and I sort of like being on a course by ourselves. We can drop a ball after a bad shot, talk about we like and don't like about the course, take a moment for a photo or video more easily. And while I appreciate the caddie's insight, I like to say, "I don't need a caddie. I AM a caddie.''
As a teenager, I was a caddie for three summers at a nice private club. I still know how to find the ball–oftentimes better than the caddie, because I am motivated. In addition, I don't hit it well enough or far enough to benefit much from a caddie's insight on full shots, and I really enjoy reading greens. A second opinion either confuses me or isn't needed.
I generally press when I am getting too much information from a caddie or an engaged fellow player, and that was happening. Finally, William figured that out and let me go about making my flawed swings—and I played a little better.
Another strange element to our Aberdeen round was, we were not playing in the prevailing wind. We were into the wind on most of the front nine, and that was not a good thing, especially for me, especially at a place like Royal Aberdeen, the sixth oldest golf club in the world.
Aberdeen, Scotland's third largest city, bustles thanks to North Sea oil. Is this what Chicago's Ashland Avenue will look like with a bus lane? We hope not.
It was founded in 1780, and is credited with coming up with five-minute rule for lost-ball searches a few years after that. The current course became its home in 1888 in Balgownie, just north of Aberdeen. It was designed by Archie Simpson and Robert Simpson, and James Braid reworked the course, which is called Balgownie.
It was also in immaculate shape, just 10 days before the pros would start their practice rounds for the Scottish Open, which Justin Rose would win a week before the British Open.
No. 8, Aberdeen's signature hole, is a short par three that has a daunting 10 bunkers and "changes its spots to suits conditions—a 3-iron one day, a pitching wedge the next,'' the course guide noted.
Fortunately, I couldn't see most of the bunkers. Even better, the wind was on our side. With a clear mind, I stuck a 7-iron on the green to the left of the flag for a routine par.
The experts say the back nine isn't nearly as interesting as the front nine, but they must be gluttons for punishment. We didn't play exceptionally well, but we enjoyed the inward nine, which featured several short par fours.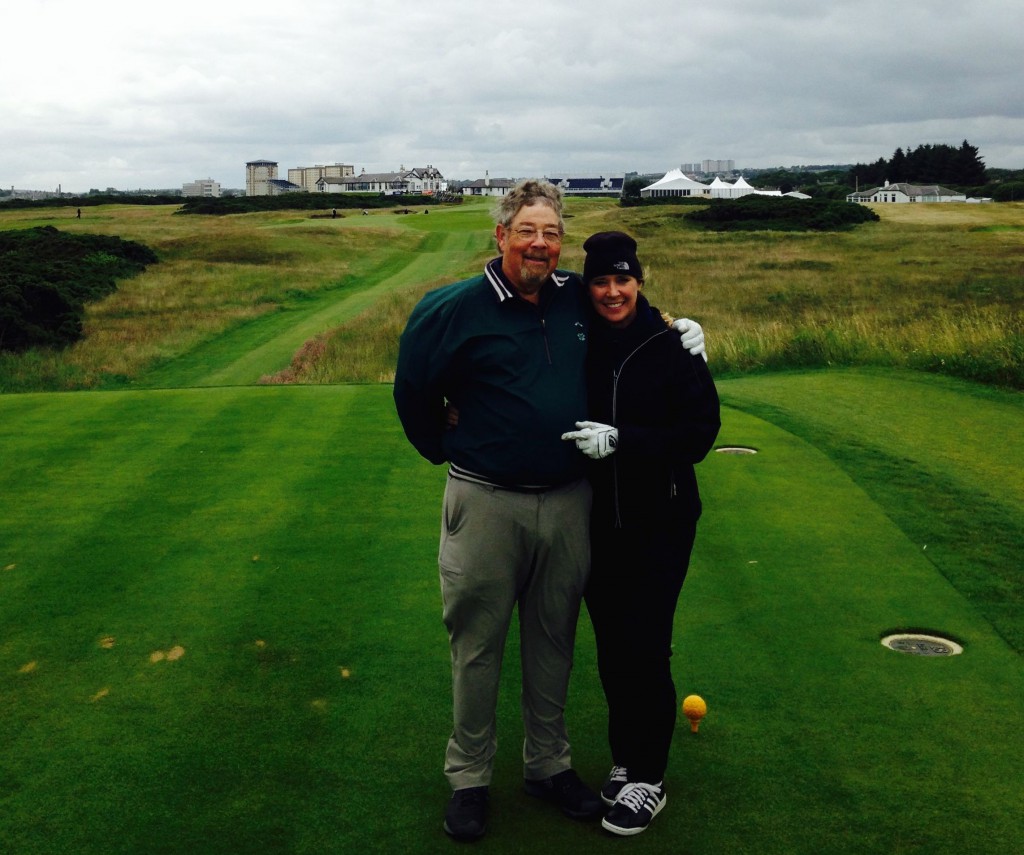 On No. 17, I made one of my best scramble of the trip. After losing my tee shot into a right bunker on the 165-yard par three, I popped out a sand shot that landed near the top tier of the three-tiered green and rolled back down to the hole for a makeable par putt.
On No. 18, which James W. Finegan calls "the finest hole on the course," I followed with a solid drive. I left my second short and to the left, and babied the short pitch to the uphill green, but managed to get the par putt close enough for a bogey.
The flag was far to the right. Once we got to the green, I realized a longer pitch would probably would have run nicely down to the hole.
That's a shot I'd like to try again. We left Royal Aberdeen feeling that way about a lot of shots. With luck, we'll have another opportunity.
In short, Aberdeen was another wonderful experience. It's a superb layout–difficult, but very fair and playable. And the greens, which were already nearing Scottish Open condition, were as fast and as true as any we've seen in Scotland. On a layout that's pure links, that's a nice combination.
———————————-
For further information, http://www.royalaberdeengolf.com/
———————————-
Please click on photos to see enlarged view. Click twice for detailed jumbo view.