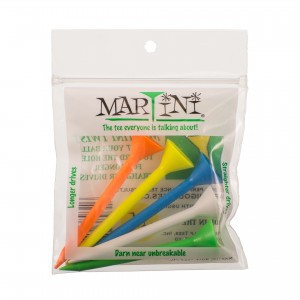 As an old caddie, I can start a round with one or two tees and finish it with 10 or 20. They're all around, if you look.
And as an old caddie, I tend to carry too many tees in my pocket. It was part of my caddie routine. Always have everything handy. Tees. Balls. Ball marks. Divot tool. Wet towel. Dry towel.
Like many golfers these days, I tend to prefer the long plastic tees that suit our modern Fred Flintstone drivers best. Wooden tees tend to break. And it's easier to place the ball on a plastic tee than some wooden tees, which is a factor for creaking, aging golfers, especially those of us with knee issues.
But last summer, I ran across an oddity that has changed the rules about tees.
It was an over-sized plastic tee that looked like a little Martini glass.
Skeptical but intrigued, I teed up with it, and was impressed with how it easy it was to place the ball on its over-sized landing zone—even when the tee has gone into the ground a little crooked.
I was impressed. My knees were impressed. My back was a fan, too.
This Martini tee quickly became my go-to tee. After a couple of rounds, I picked up a five-pack at our now-closed Golfsmith—and thank you for that, Dick's Sporting Goods.
The tees were about a dollar apiece, but here's the deal: Dozens of rounds later, I'm still playing with that set of tees.
I've lost one or two, but they don't break. And because I only need to carry a couple of these resilient items in my pocket, I no longer have a pocketful of tees.
They even have a cute slogan: "The only martini that improves your driving.''
The Martinigolftees.com website says tests have shown that robot drivers hit their tee shots longer and straighter. I can't vouch for that, not being a robot. Then again, robots don't have knee and back issues.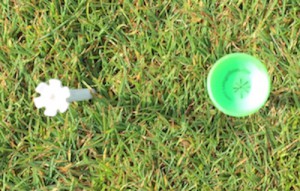 The only tees I hunt for now are "shorties''—sawed-off tees to be used when hitting irons on par-threes.
I'm so enamored of the Martini tees that I haven't risked shoving them low enough into the ground for those kinds of shots. I'm fearful I might break one—although now that I think of it, I might just put a Martini tee to the 7-iron par-three test.
They've passed every other test.
My only complaint? I would have preferred a package of blue tees, and they were only selling the variety pack (blue, white, yellow, orange, green).
I like the idea of using a blue tee because that's the only blue tee I tend to play these days. And that reminds me of a story Bears quarterback Jim McMahon once told us about a golf game with a new wide receiver. When McMahon announced they would play the blue tees, the wideout became concerned and said, "I only have white tees.''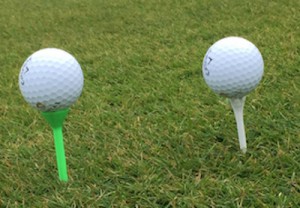 At any rate, I highly recommend the Martini tee.
And as I discovered later, you can buy an all-blue package, or a variety of other colors, at martinigolftees.com.
I may go all-blue next time. Although I'm starting to like the  rainbow of colors. The good news, I have time to ponder this decision. Because the Martini tees I have seem destined to last for a good long while.
@@@@
The Martini tees would be more of an add-on to a Mother's Day or Father's Day gift. But they would last longer than the actual gift. And Mom or Dad's back would thank you, too.