DORNOCH, Scotland—As we headed north from Pitlochry to Dornoch, there was no doubt this was to be a magical day. We passed distillery after distillery (sigh) and enjoyed majestic views as we wound through the Highlands.
I was excited and nervous. Excited because one of my globe-trotting golf-writer friends had called Royal Dornoch, which stands 14th in Golf Magazine's top 100 courses of the world, his "favorite course in the world.''
And nervous because Scottish-golf expert Allan Ferguson calls Dornoch "one of the two or three most difficult courses in Scotland.''
Would my game stand up to this test well enough to enjoy it? Would Liz's? Would we be able to savor our round at one of the world's greatest links courses? Or would we be picking balls out of the gorse—or our pockets—so often that the day would be an ordeal?
It is 127 miles from Pitlochry to Dornoch, but the A9 is a comfortable two-lane highway, with occasional four-lane interludes, that makes for a pleasant 2-1/2 hour ride. After driving through the little town of Dornoch, we reached the course in plenty of time for lunch before our round.
Through the picture windows of the second-floor dining area, we could see the first hole in all its stark beauty, with the Moray Firth beyond it. That hole, an unassuming 302-yard starter, looked modest enough. But who knew what peril lurked after that?
After saying hello to our playing partners, a pair of American gentlemen who were, like us, playing some golf after watching the Open at Muirfield—we put got underway. Bill and Rick hit solid tee shots, but went right and left. They battled a bit at the start of the round, but their solid ball-striking put them in good places as the round progressed.
I didn't catch my first tee shot very well, but it was a straight, low-runner. With Royal Dornoch, which is probably fast and firm nearly every day, in the midst of a drought that added even more length to low balls, my tee shot played fine. Liz also got off the tee well. Both of our approaches were a tad short, but well-positioned between the two greenside bunkers, and we two-putted from off the green for pars.
Maybe this wouldn't be so terrifying after all.
On No. 2, a 167-yard par-three, I made a decent swing with a hybrid and was pleased to see the ball land in front of the green and bounce up to about 15 feet. I missed the birdie, but gladly took a tap-in par.
We were downwind on firm ground, but it was as true at fabled Dornoch, an Old Tom Morris design that opened in 1886, as anywhere in the land of Golf and Single Malts: If you keep the ball out of the gorse and pot bunkers, golf can be very pleasant.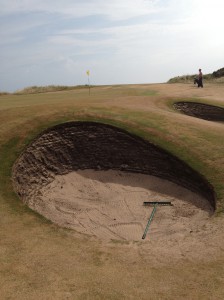 Alas, I came back to reality on No. 5. It was just a short par-four, but I got a little too aggressive on a chip and ran the ball through the rock-hard green, into a pot-bunker, leading to the first big number of the day.
Oh, well. On the next hole, 171-yard par-three, another hybrid ran straight and true to the green for a routine par. Meanwhile, Rick, who was a really good player, caught one of the nasty bunkers left of the green. His sand shot rolled off the sharply sloping green and kept going down the other side, where he faced a tough pitch.
But the real beauty of Dornoch is its setting, framed by the Moray and Dornoch firths out on the horizon. While very similar in vintage and feel to the Old Course at St. Andrew's in some ways, Dornoch also is very different. The course sits higher, providing panoramic views as well as better looks at the golf that lies ahead of you—and around you.
There are some blind shots, and there are some perilous-looking shots that might better be hidden. But at Dornoch, golf is played in an atmosphere. As with the Old Course, you can feel the roots of golf in Dornoch.
Tom Morris laid out the course in the late 1880s on ground where golf had been played since the 1400s. Dornoch is also the home of the legendary Donald Ross, who was born in 1872 and was the pro/greenskeeper/clubmaker at Royal Dornoch before moving to the United States and becoming a legendary, prolific golf-course architect.
As an added bonus, we caught Dornoch on a delightful weather day. The pro-shop staff had advised us to be prepared for wet weather, just in case. But we wound up  playing in a breezy, shirt-sleeves day where the temperature was basically in the low 70s, maybe dipping into the high 60s toward the end of a round that finished at about 6 p.m.
Liz battled a bit, but that was understandable. Every golfer has days like that. And while the men's par is 70, the women's routing is a daunting par 76 (37-39) that includes eight par-fives. All in all, I thought she did really well even though she got flustered by the endless shots around and in gorse, heather and bunkers.
The proof? When we got home to Chicago, she was a much improved sand player. She also had developed a solid high pitch shot from 110 yards and in, something she had not done well previously. There's nothing like 10 rounds in 17 days (with five days off to watch the Open) to improve your game.
I only drank once on the golf course during that span. But when a remote halfway house appeared, oasis-like, I couldn't resist a 16-ounce can of Tennent's Lager, Scotland's very drinkable golden summer cooler.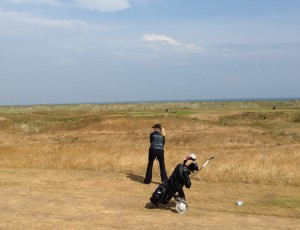 Thus fortified, I proceeded to bomb a 250-yard drive off the 11th tee. Never mind that it was downwind on an airport runway of a fairway in conditions where John Daly might have hit a bill 450 yards. When you're approaching Social Security and have a swing that makes you cringe when you see it on video, you have to enjoy the moment.
I was proud of enough that I handed Liz my iPhone for video evidence and commentary. What I said was, "I've probably never hit a 250-yard drive before, and certainly never will again. God bless Royal Dornoch.''
Lo and behold, after that satisfying poke on the 434-yard 11th, I proceeded to crank out a 260-yard tee shot on the par-five 12th.
Out came the iPhone, where I corrected my mistake about never hitting another 250-yard tee shot, and vowed to bring some Tennent's beer home to America.
Unfortunately, the wind that helped me hit those long drives also buffeted the microphone, preventing my splendid commentary from being audible.
Alas, the fine tee work didn't translate on the scorecard. I hit a poor second shot on 11, and settled for bogey. On 12, a solid shot took a tough bounce to the right and ended up in a greenside bunker, leading to double-bogey.
From there, Liz and I both pretty much stumbled in; even when I did hit the green on the par-three 13th and the 300-yard 15th, I three-putted.
But the lingering memories of the experience are nothing but birdies. We will be back.
After a quick beer with Rick and Bill, who were staying at the intriguing Royal Golf Hotel right next to the golf course, we headed off to the bed-and-breakfast Liz had found.
Strathview was about 10 minutes out of town, which seemed like a big deal in tiny Dornoch. And since it was getting late, by rural Scottish standards, for dining, we considered stopping to eat, but wound up deciding it would be better to find the B&B first.
I'm glad we did that in daylight. Although right off of A9, the Strathview is a bit tricky to find. Once there, though, we were delighted. Our room (the Strathview has just three) seemed newly renovated, but had all kinds of little B&B touches that Liz admired. There was an excellent view of the sea and some nearby pastureland. The hosts, Tom and Mary, could not have been nicer, and their breakfast might have been the best we had in Scotland.
When we checked in, we asked Mary where to grab a bit of dinner, wanting to know if the Trentham, a little roadside hotel we had passed on A9, was OK. She was a little noncommittal, saying she wasn't sure if they would still be serving, but we thought we'd give it a shot to avoid the winding road back into town.
Two or three tables were occupied, but no staff surfaced for a few minutes, and I was wondering if we should leave when a woman came out. She told us they were about to close the kitchen, but she'd ask the chef.
She returned, saying we could still be served. Liz had the steak pie, and I had the chicken pot pie, and both were outstanding. It was just a simple dining room with a little bar, but the staff and food were remarkable.
We headed back to our B&B, where we had a good night's rest before our next stop, Castle Stuart.