A 12-hole golf course overlooking the sea on a serene Scottish tourist island?
Sign us up.
With seven par-threes, a playing time of a little over two hours and a weekend greens fee of 27 pounds ($44), Shiskine offers remedies for many of the ills that have stymied the American golf industry.
It's quicker, easier, affordable and, most important, very fun for golfers of all ages and skill levels.
The signature hole, the Crow's Nest, is a singular delight. It's a blind shot, straight up, of no more than 130 yards to a seriously hidden green. Don't forget to use the signal flag lets the next group know when the green is clear.
Why Shiskine gets votes for "most unusual course in Scotland."
But that's just one of the treats at Shiskine, a 21-21-42 layout that goes 2,996 yards from the tips. It's the only golf course I've played where I had a shot at breaking 50.
Like Traigh, Shiskine is one of those quirky, fun golf courses that can make a visit to Scotland unique.
Besides Shiskine, the Isle of Arran has three 18-hole golf courses and three nine-holers. There's even an Arran Golf Pass that includes one round at each course for a mere 99 Pounds.
We didn't have time to check out the other courses, but our one night on the Arran showed us why it's such a popular tourist getaway. There are a wide variety of lodging options, from relatively fancy resort hotels to quiet B&Bs.
Dedicated golfers easily can make a day trip to Shiskine from the Troon/Prestwick area via the one-hour ferry that goes from Ardrossan on the mainland to Brodick, Arrran's largest village.
Another option is to do what way we did, catch the half-hour ferry from the Kintyre Peninsula after playing at Machrihanish. By the way, that ferry ride was one of the most excitingly uncertain moments of our trip. A remote ferry dock. A driving rain. A stormy sea. It felt like a Hitchcock movie.
To say the Claonaig ferry dock on Kintyre is remote is putting it mildly. It was basically a slab of concrete by the sea. When we pulled up, the rain was sideways, and there wasn't another vehicle or person in sight, even though it was just a couple of minutes before the ferry was due. Running the options through my mind in the event that the ferry wouldn't arrive due to the weather, or lack of interest, I realized there weren't many.
But then, after appearing out of the cloudy gray horizon, a ferry pulled in. Three or four cars, and one hardy pedestrian disembarked. Then we pulled the little red Focus onto the ferry deck, followed by one other vehicle.
Rain. Fog. Wind. Scottish ferries make their appointed rounds.
Liz and I and the other passenger enjoyed a nice chat in the narrow seating area with the two ferry-deck operators while we crossed the stormy sea to Lochranza on Arran.
Hats off to the Caledonian MacBrayne ferry line, which operates throughout the Scottish isles.
The day's travails were just beginning. After driving down the coast of Arran, we pulled in at the Shiskine golf course. It was taking a good pounding from the rain. We tried to wait it out by having a fine lunch in the cozy clubhouse, but the rain didn't let up.
Fortunately, there was a Plan B. We got up early the next morning, and were greeted with a lovely sunny day that allowed us to enjoy Shiskine before we caught another ferry back to the mainland.
What a treat.
The 386-yard first hole heads out along the sea, a gentle starter as long as you don't fear a big hook that could send a golfball to a watery grave. No. 2 is a big 357-yard dogleg left.
And then comes the Crow's Nest—a virtually vertical 130-yard par-three that seems to climb up a sheer cliff.
Unfortunately, I under-clubbed a bit. We don't hit that shot often in Chicago. But my ball did land in front of the green on thick grass that was reasonable enough to allow a pitch onto the green.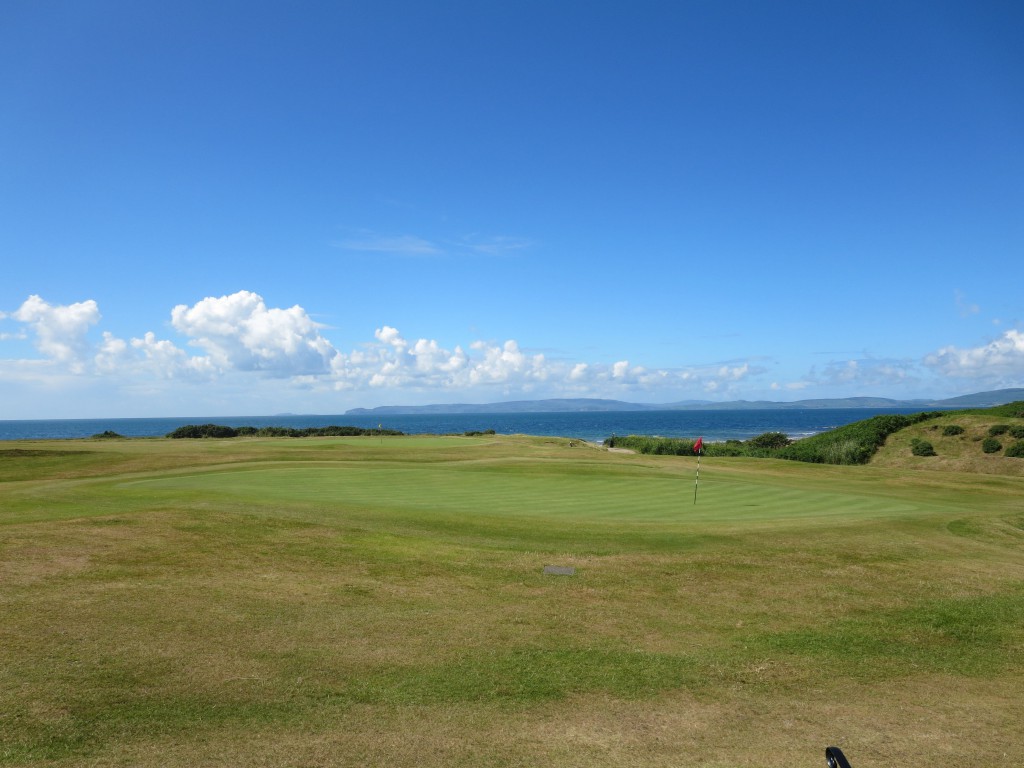 From there, the game was downhill—literally. A middle iron was all Ithat was needed to pop the ball onto the seaview fourth green—although deciding which one was not obvious.
I also got close enough to two-putt for par on the 212-yard par-three fifth hole, and parred the short par-four sixth—to make the turn in 26 shots.
The Crow's Nest might be the signature hole. But the Back Six is filled with entertaining holes, starting with No. 7, "Himalayas.''
This is your classic blind par-three over a hill to a totally hidden green. Errant shots can find gorse to the left and a burn behind the green, O.B. right as well as the hill punishing short shots.
Not to worry. It's a pretty large green. Don't forget to pull the lever on the clever underground-cable signal that lets the next group know you're finished.
No. 8 is a short par-four that requires a blind shot over a hill. By taking a bold line, even a short hitter (like me) has a chance to drive, or at least get close enough to putt.
No. 9, Shiskine's only par five, is not about length, either. Big hitters can take their second shot over the burn to reach a rolling green. The rest of us will approach the green from about 150 to 160 yards, depending on the precision of that second shot.
Finally, Shiskine finishes with three par threes. Easily the best is No. 11, "the Hollows.'' It's a 200-yard blind shot up-and-over a hill to a relatively sunken green. Errant shots end up in a hollow in front of the green, leaving a tricky chip or pitch for those who want to save par.
It's such a delightful course, I wish we'd allowed time to play it again. Not only does 24 holes have a nice ring to it; with all of those blind shots, it would be helpful to know what lies over the hill.
That's especially true on the Crow's Nest and No. 11, appropriately named "The Hollows.''
Multiple rounds in a day are common, club pro Dougie Bell said, noting that most of Shiskine's members are vacationers who pack their golf into relatively brief stays.
Shiskine originally opened as a nine-hole course in 1896, and was expanded to an 18-hole layout about 15 years after that. Shortly after that, World War I began, and six hill holes were lost to the war effort. They were not regained, but the dozen holes remaining from Willie Park Jr.'s pre-war design have weathered well.
No question, American golfers traveling across the pond are going to fill their schedules with Scotland's hallowed classics and its attractive new courses. But there's not only nothing wrong with taking a day or two for singular experiences like Shiskine and Traigh. It's a highly recommended way to experience Scotland more fully.
Reluctantly, we drove to Brodick for the ferry trip to Ardrossan, followed by the one-hour-and 45-minute drive to Edinburgh, our final destination. Fortunately, we were packing our indelible Shiskine memories.
———————————-
For further information, http://www.shiskinegolf.com/
———————————-
Please click on photos to see enlarged view. Click twice for detailed jumbo view.