The day after our 36-hole adventure at Turnberry, we woke up to a steady rain. Watching the umbrella-toting golfers head out to the first tee as we ate breakfast in the Turnberry Hotel, I appreciated the beautiful weather we had enjoyed the previous day even more.
I was also pleased for the players who were about to experience a great Scottish golf course, Scottish weather and all. But the gray drizzle put in perspective how fortunate we had been from a weather standpoint.
During our 10 rounds, there had only been two rainfalls worth mentioning, at Pitlochry and Castle Stuart. Each had last only three or four holes.
We won't expect that kind of forecast next time.
After breakfast, we went over to the spa/exercise building. It's adjacent to the hotel, and is connected by an enclosed walkway. I did a half-hour lap swim, which is better than stretching for me, to ease the golf soreness and prepare for the plane ride home. I was never a huge swimmer, but I discovered after some back troubles that it was a great way to stretch out every muscle, especially tight legs that contribute greatly to back issues.
While we were loading up the car outside the hotel, it was time to say goodbye to the hotel staff, and that meant a photo op with Jim, the concierge with the kilt and the Sean Connery accent. Thanks to him and his colleagues, the Turnberry is a uniquely pampered experience during an often-hardy golf trip.
The two-hour drive to Glasgow was uneventful. We did need to pay attention while locating the Arnold Clark rental-car return, which was tucked in an off-airport neighborhood. But the price, vehicle and staff made that a choice we'll make again.
A quick shuttle ride later, we were back at the airport terminal, where we walked across the street to our hotel. Because we had an early flight, Scottish travel ace Allan Ferguson had suggested we stay at this Holiday Inn Express because of its location.
That turned out to be a great call. Not only could we roll out of bed and be at the airport. The hotel was charming in a down-to-earth Euro way. Besides the usual breakfast area, the lobby included a cozy well-stocked bar and a pool table, and was bustling in the evening. All in all, it provided one last pub experience before leaving the U.K.
Our room also was comfortable, practical and clever even though it was very compact. There were two luggage-rack areas along the wall, a flat-screen TV and plenty of electrical outlets. When opened, the bathroom door could switch to being a commode door for privacy. Taking in all of this, I chuckled at my concerns about a reasonably-priced American chain hotel across from a European airport terminal.
We caught a cab into town to see a bit of Glasgow with Ron and Susan, who had looked into a final-night pub crawl. We enjoyed our first stop, the Bon Accord, so much that we managed only one more.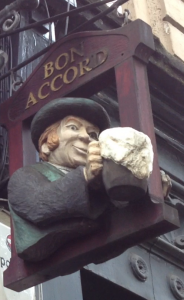 The Bon Accord is a small traditional-looking pub on a nondescript street, but it has an immense wall of single malts, a friendly staff and a cozy warmth. When we sat down at a nice upfront table, it had a small sign bolted to it that said, "Press only,'' which sealed the deal for me.
Our goal was to do a beer and single-malt tasting, preferably in amounts small enough so that we could do a reasonable sampling of Scotland's finest. While we were trying to decide, a young man at the bar gave some advice. He was very knowledgeable and, not surprisingly, turned out to be an off-duty bartender.
We had an appetizer or two, and the food was right there, too. It's no wonder the Bon Accord—literally "good agreement'' in French, but "good deal'' in my mind—was ranked No. 1 in a Trip Advisor nightlife survey.
Rather than staying there, though, we walked a few blocks down North Street to another place Susan had found, Chinaski's. We almost didn't find it. If there was a sign, we didn't see it. This speak-easy-like approach seemed odd for a bar/restaurant that features live music, an excellent menu and a stocked bar. Then again, Chinaski's is dedicated to Charles Bukowski, the late poet and author who also was a character with character.
Bon Accord Scotch collection: We couldn't try them all. But we did try.
As we walked in, I admired the large, modern bar but wondered if leaving a cozy, quiet pub with great food for a bustling club was the right call. It turned out, though, that Chinaski's had seating in its compact outdoor backyard terrace—and it had a wide-ranging outstanding menu that included everything from a giant burger to a pork-belly dish to calamari bolognese.
This innovative menu once again made me wonder why American friends are always telling me they don't care for the food in Scotland. We never had anything close to a bad meal, and many were remarkably unique and good—as interesting and tasty as anything we would find on a good day back home in Chicago.
It was a nice way to finish a trip—and it put Glasgow on the list of places to be explored further. We also had neglected Edinburgh on this first trip to Scotland along with the Scottish islands and too many golf courses to name. On the other hand, we had rolled three trips into one—a long weekend in St. Andrews, a week at the Open and a week of touring that ranged from the Highlands to Turnberry.
Before we left, 17 days seemed like a long trip. As it came to an end, we were wishing it could go on and on—and we were vowing to return soon. For me, that's the ultimate measure of a travel adventure.