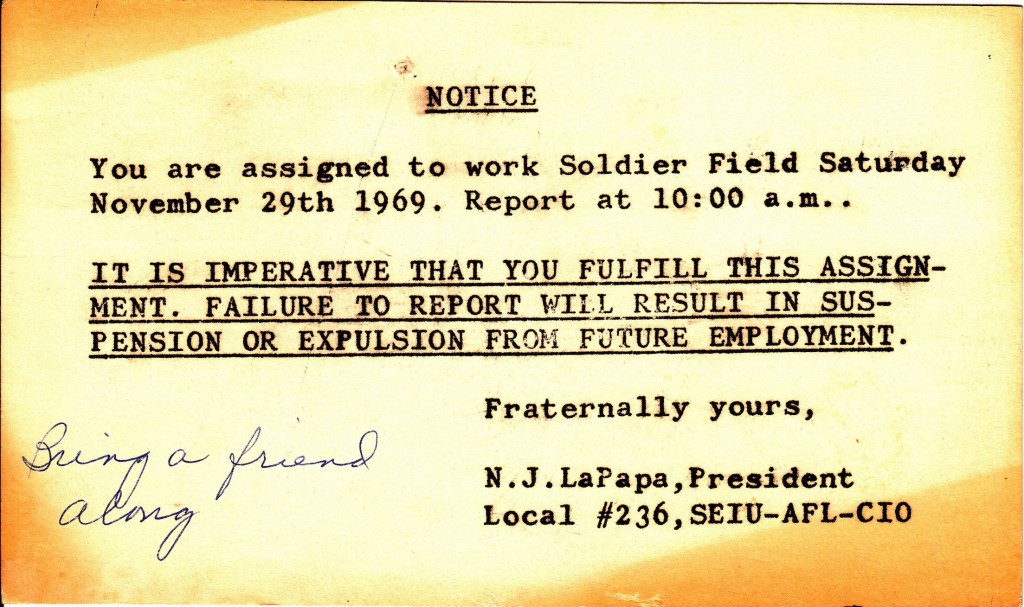 When one of our mayoral candidates in Chicago was endorsed recently by the Service Employees International union, I was reminded that I was once a proud member of SEIU Local 236. . . The Vendors Union.
We joined this union mainly because of the status it afforded us at Wrigley Field, where the money was to be made. But the union staffed many other events, and it didn't always have enough vendors. Thus, we would receive these postcards.
I recently found these cards while cleaning a basement storage room. I still enjoy that you could be fired if you don't show up. . . and it would be peachy if you brought a friend. Nicholas J. LaPapa had a way with words.
These cards are from Northwestern football games. I never did report, and I never was suspended or fired. I did call the union office to with excuses such as, "I'm in  the high school marching band that day. Can't make it." The woman in the office was very understanding.
The only time I went on one of these deals was when I was ordered to report to Soldier Field  to be a vendor at a Special Olympics event. I was selling Coke. They were giving away Coke to anyone who went down to the field. Needless to say, it was not a profitable day.
I never went back–with or without a friend.