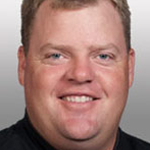 At times even as a rules official, I have to sorta agree with Carl Pettersson after he told the press that he felt his rules violation at the PGA Championship was "one of those stupid rules."
Pettersson entered the final round at the Kiawah Island Ocean Course, trailing eventual winner Rory McIlroy by just three strokes. His drive on the first hole drifted to the right and into a lateral hazard. He still had a shot and took out his lob wedge, but made contact with a leaf on his backswing.
Of course, this is a violation of Rule 13-4c, which says a player must not touch or move a loose impediment lying in or touching the hazard.
Pettersson admitted that he didn't even realize he moved the leaf as he was just trying to hit the ball, but a rules official with the group did. After a review of the video confirmed that Petterson did indeed violate the rule, his 4 was turned into a 6.
Petterson didn't think his actions affected the outcome of the shot and I would have to agree, but it's part of the rules and the PGA had no other choice.
The penalty ended up costing Pettersson $480,500 as he would have finished alone in second place instead of in a four-way tie for third.
If this had happened in another event, no penalty would likely have been called because as a player Pettersson didn't realize it had happened. In majors, there are walking rules officials with groups. There are a lot more cameras, too, and armchair rules officials who can spot infractions.
Three other rules violations at the event offer proof that the players consider it an act of honor to admit to making mistakes that might violate a rule.
When faced with an embedded ball in a sandy area, Michael Hoey brushed away sand as allowed to identify his ball, but failed to recreate the lie by replacing sand back. He did notify the rules committee, but should have done so before signing his scorecard and was disqualified.
Joost Luiten didn't make that mistake. Luiten felt he might have hit the ball more than once when he tapped in a short putt. Viewing the video confirmed that he had done so and he added the one-stroke penalty before signing his scorecard.
Zach Johnson felt his ball moved at address during the final round and was assessed a one-stroke penalty although a video review proved inconclusive.
In the third round when everything seemed to fall into place for the eventual champion, McIlroy saved par even when his drive ended up in a tree. Unlike what happened at the 2012 U.S. Open when it appeared obvious that one of Lee Westwood's drives had ended up in a tree and he made a costly double bogey, McIlroy found his ball within the five minutes allowed. He took an unplayable lie and a one-stroke penalty, getting a drop near the tree instead of having to return to the tee if the ball had been lost.
By using a local rule that all sand on the course would be treated as through the green rather than hazards, the PGA did not have to worry about one of the players making a mistake and grounding his club as Dustin Johnson did at the 2010 PGA Championship. That error cost Johnson a chance to be in a three-way playoff for the title. I did spot some pros taking practice swings, but never saw anyone do it in a bunker near a green.