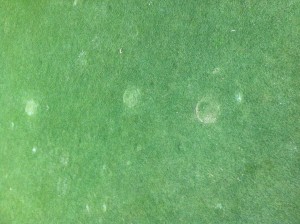 We've all seen how old cups can create an eye sore on greens, especially if the hole cutter tends to return to the same areas on a regular basis. This was certainty the case where I played recently with my senior group.
When the grain doesn't always match, it can definitely cause problems for golfers trying to figure out breaks for their putts.
Realizing that it can be difficult to match the direction of the grain when maintenance workers go out doing it early in the morning, superintendent Clay Brazeale came up with a way to solve the problem at the Stadium Course at TPC Sawgrass in Ponte Vedra Beach, FL, host site for the Tournament Players Championship.
His staff stores the 18 old plugs from the previous day in the maintenance facility over night and then replaces them in their original holes the next morning. A tee is inserted in each plug to ensure proper alignment.
When courses use the ezLocator system like Brazeale does, this isn't as likely to happen since the hole cutter has a lot more options and doesn't have to place the new holes even close to others.
Other superintendents should consider using Brazeale's system along with the ezLocator, a software program developed by Jon Schultz of Richardson, TX. The Merion Golf Club, host to the 2013 U.S. Open, has done it.
While on the subject of old hole plugs, golfers should be aware that the rules do allow golfers to repair them just as ball marks are. In fact, one of the decisions allows a player to step on an old hole plug in his line even if there is a spike mark on it.