Whatever happened to Bill Roland?
I used to see him annually at the Golf Writers of America Championship in Myrtle Beach, SC, but had not seen or heard from him in many years until I received his new book, "Champagne Tony Lema: Triumph to Tragedy," which detailed the story of professional golfer Tony Lema, who died July 24, 1966 at age 32 in an airplane crash.
Of course, a similar story happened 33 years later when rising star Payne Stewart, the winner of three majors, suffered a similar ending in a plane crash at age 42.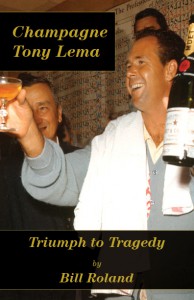 Relying a lot on newspaper and magazine clippings made available by Harry and Judi Lema, Roland does a fantastic job of detailing the life of Anthony David Lema, from his days as a caddie in California until becoming a rising star who was challenging the Big 3 of Arnold Palmer, Jack Nicklaus and Gary Player on the PGA Tour in the mid 1960s.
Roland had actually seen Lema play in the PGA Championship at the Firestone Country Club the day he died and had written stories about him previously. He stayed in contact with Lema's relatives over the years. One night in mid-November of 2012, Roland woke up in the middle of the night and said, "I'm going to write this book."
Unlike today where I read so much and see so much on television about what's going on with professional golf, all I saw was what the Associated Press wrote back in the 1960s when I was as sports writer and editor at Texas newspapers in Odessa and Abilene. That made catching up on details of Lema's performances on tour a lot more interesting because I had not heard a lot of the stories before.
As Jim Murray wrote in a column following Lema's early demise, nicknames were a sincere form of flattery in the sports world—i. e. "Slamming Sam" Snead or "Bantam Ben" Hogan. Lema became known as "Champagne Tony" when he started sharing the drink with the media after his first title in a playoff over Bob Rosburg in the 1962 Orange Country Open in Costa Mesa, CA.
Roland details an interesting story about how 30 years later, Rosburg, who was working for ABC, recalls an ex-Marine telling him how he had actually kicked Lema's ball back in bounds on the first hole of the playoff, thinking he was helping another Marine. Rosburg informed the man that Lema had told him that morning he was going to leave the tour and take a club job if he didn't win. "If you hadn't kicked that golf ball back in bounds, Tony would be alive today." Rosburg said to the man, who had a shocked look on his face.
Some other interesting things I never knew before reading the book:
*Lema's win at the 1962 Hotel Sahara Invitational came when he got a mulligan as his opening round 75 was washed out and he followed with 69-67-66-68—270.
*Lema won the 1964 British Open at the Old Course at St Andrews on his first trip across the pond, using Palmer's caddie Tip Anderson since Arnie skipped the event. Lema just followed Tip's advice on where to drive the ball and to leave his wedge out of the bag in favor of using less loft on chip shots because of the wind. He finished five strokes ahead of runner-up Jack Nicklaus. Lema did get a break by going off early the first day while Nicklaus played in stronger winds in the afternoon. Lema was in the "zone" that summer as he also won three other times in a six-week period.
*Doug Sanders was supposed to be on that same plane, but had to withdraw from the outing that the Lemas were traveling to after he burned his thumb and couldn't play.
CHAMPAGNE TONY LEMA: TRIUMPH TO TRAGEDY
By Bill Roland
Illustrated, 552 pages, Roland Golf Services, $14.95