After finishing as the No. 2-ranked course in Texas for eight years by The Dallas Morning News, the Tom Fazio-designed Dallas National Golf Club has now been recognized as its choice for the No. 1 course. As a member of the 97-person panel, I think it was about time although there was certainly nothing wrong with Whispering Pines, the king for nine straight years.
I'm also a member of the Golf Digest panel and that magazine had ranked Dallas National No. 1 in the state since 2007 and 61st in the country, a few places ahead of Whispering Pines.
When I first rated it 12 years ago, I got a call from Golf Digest questioning the numbers I used.
My answer at the time, "I've played 60+ of the top 100 and it deserves to be in the mix some place."
Dallas National is perched on a plateau overlooking heavily wooded hills southwest of downtown, offering unique vistas from three large canyons, elevation changes of 160 feet and eight bridges. All the ups and downs, unusual in this part of the state, create a diverse blend of holes that include 12 which sit atop or on the edge of plateaus while six wind through limestone canyons and two streams. No two holes are alike. Only one hole plays uphill, unusual with all the elevation changes.
Dallas National doesn't have tennis courts, a swimming pool or a social calendar as it is all about offering a golfing experience unmatched anywhere else in the Dallas/Fort Worth area. Of course, golfing purists do have to come up with the $150,000 memership fees to enjoy the experience.
The course always seems in immaculate condition with Zoszia "hand-combed" fairways and bent grass greens that roll true, but all the undulations add to the challenge, especially if you wind up in the wrong places with your chips or approach shots.
There are professional caddies available. You will need them to read those undulating greens and to help you find errant shots as I can testify from personal experience.
Also adding to the golf experience are a 130-yard wide practice range with tees on both ends and eight bunkered target greens, a short-game practice area with six greens secluded in a grove of towering trees and two putting greens. Noted teacher Chuck Cook is on call.
Members do not even have to make tee times, just show up and play.
Since I last played it, I understand that more upgrades have been made. No. 12 underwent a significant redesign, including a new tee. No. 18 also got a new tee and additional fairway bunkers plus the ground in front of the green was levelled. New tees were also added on Nos. 2 and 11.
Dallas National can be very tough from its Texas tees at 7,326 yards. However, members can move up to five other sets of tees that can be more fun to players of different levels, but at the same time be challenging.
The clubhouse evokes the feel of a ranch house in the Hill Country and has a distinct Texas look from the men's locker room to the pro shop to the main dining area.
In addition, there are two, two-story cottages just off the 18th fairway that are fully furnished and make for nice member retreats or for special guests.
Director of Golf Britt Patton explained that the developer, John MacDonald, discovered the site, formerly a quarry, by accident when he was talking to Fazio about another potential golf project and happened on it 15 years ago.
Fazio reportedly stood awestruck gazing out on the dense groves of cedar and hills adorned with wildflowers, and accepted the challenge of routing 18 holes on the raw piece of natural terrain.
MacDonald, a Golf Digest course-rating panelist himself, envisioned a top-100 course and Fazio delivered.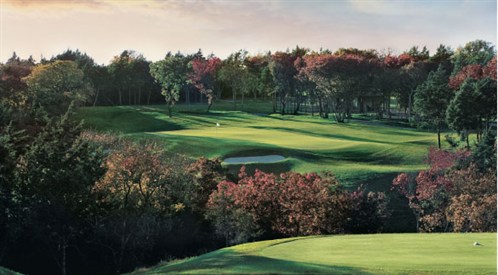 .