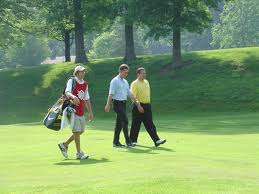 Caddies are now a rarity at most clubs, but it is nice to occasionally get the chance to walk a course and to utilize their talents to help you enjoy a round of golf.
One of my most memorable rounds came at the Pinehurst Country Club No. 2 Course back in 1973 when I worked for Golf Digest. I just listened to my caddie about the club selections and where to putt the ball and was having one of my best days ever without realizing it. On the 15th hole, he said, "Make this putt and you have a good chance of shooting in the 60s." Well, that was probably the wrong thing to say. I tensed up and didn't even come close to making that 12-footer the birdie, leaving it more than a foot short. I was still two-under with a par 5 coming up. I hit a good drive and was 250 yards away. My caddie suggested a 4-iron to sit up a wedge from 50 to 75 yards. However, I elected not to take the caddie's advice, going with a fairway wood to get the ball either on the green or within chipping distance. That was a mistake. I pushed it into the rough, short and right of the green, and then "chili-dipped" a wedge into a bunker, leading to my only bogey of the day when I failed to save par from 10 feet. Pars on the final two holes did enable me to shoot a 71.
On another occasion 25 years ago, my caddie at Carnoustie in Scotland had all kinds of interesting stories about The Open events at his course, including how even the game's best had trouble playing the final five holes in par. There were four long par 4s all over 400 yards and plenty of water on the final two holes plus a par 3 that measured almost 250 yards. I took that as a challenge. Realizing that I couldn't get to the 14th green with my approach shot as the pros could, I followed my caddie's advice and laid up to 60 yards, then wedged to 15 feet and made the putt. A bump and run chip allowed me to save another par from six-feet on No. 15. Pumped up a little, the caddie handed me a driver for the par 3 16th. I hit my best drive of the day to four feet. Make birdie and I could afford to bogey one of the two closing holes, but it was not in the cards as I left the putt dead on line but inches away. Avoiding the Barry Burn on the 17th and 18th holes with carefully planned shots, gave me the chance to pitch within 10 and 15 feet. My caddie again provided the right lines and I rolled in the putts to accomplish my goal. Par putts always seem easier than birdie putts. Yes, the caddie got a nice tip after that round.
Getting the caddies' viewpoints about golfers seemed like a good idea and so let me share with you some of the comments reportedly heard over the years.
Golfer: "You've got to be the worst caddie in the world."
Caddie: "I don't think so as that would be too much of a coincidence."
Golfer: "I think I'm going to drown myself in the lake."
Caddie: "Think you can keep your head down that long?"
Golfer: "I'd move heaven and earth to break 100 on this course.
Caddie: "Try heaven, you've already moved most of the earth."
Golfer: "Do you think my game is improving?"
Caddie: "Yes sir, you miss the ball a lot closer now."
Golfer: "Do you think I can get there with a 5-iron?"
Caddie: "Eventually."
Golfer: "Please, stop checking your watch. It's too much of a distraction."
Caddie: "It's not a watch, It's a compass."
Golfer: "Do you think it is a sin to play on Sunday?"
Caddie: "The way you play, it's a sin on any day."
Golfer: "This is the worst course "I've ever played."
Caddie: "This isn't the golf course. We left it an hour ago."
If you ever get the chance to use a caddie, try to remember not to give him such fodder.