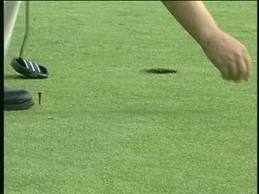 It seems innocent enough. Another player asks you to move your marker to one side since it is in the line of his putt. However, you forget to move the ball to its original position and putt out. Oops! While it may seem a little severe for what appears to be a minor violation, this calls for a two-stroke penalty. This happened to a touring professional last year after an alert viewer saw it on television.
It almost happened to Rod Spittle, a Monday qualifier, before he claimed the AT&T Championship on the Champions Tour. After a nice recovery from deep rough, his ball was on the line of Jeff Sluman and he moved the marker over to the side. In all the excitement of having a chance to gain exempt status for a year, Spittle admitted he failed to remember moving it back as he prepared for a four-foot par putt. Several observers around the 18th green, including television commentator Donna Caponi, and Sluman reminded him. So Spittle backed off and put the ball back in the correct position and made the putt.
"Fortunately it did not end on a terrible note like that," Sluman said. "It would have been awful."
In a bizarre finish to a Ben Hogan Tour event—now the Nationwide Tour, here's what happened to John Flannery and Esteban Toledo on the third hole of a playoff for the title. Toledo missed the green and chipped to within eight feet. Flannery missed his birdie putt, but marked his ball that finished three feet away. Toledo asked Flannery to move his mark to the side. Toledo missed his par putt and put down a marker 15 inches away. Flannery forgot to move his ball back and stroked in for what he thought was a winning par. Toledo's caddy picked up his mark, thinking the playoff was over.
Wait a minute! That's when everyone realized that Toledo had not putted from the right spot, forgetting to move the marker back to the original position. He was penalized two strokes and finished with a double bogey. However, Toledo could not claim victory with an almost sure bogey from 15 inches. He had to return to a spot as close as could be determined to where the marker had been picked up and take a penalty shot, making double bogey also.
As it turned out, the mental lapse did not cost Flannery as he won the playoff with a par on the next hole. However, I imagine that Toledo had a few choice words for his caddy.
In another interesting case, a player put his ball down behind a fellow competitor's mark by mistake. He missed that putt. Realizing his mistake, he picked up the ball and putted from the correct place. It was then he discovered that he was penalized four strokes—two from playing from the wrong place and two for not replacing the ball that was in play.
What happens if an opponent in match play or a fellow competitor in stroke play marks and lifts your ball without your authority? The opponent gets a one-stroke penalty in match play, but there's no penalty in stroke play.