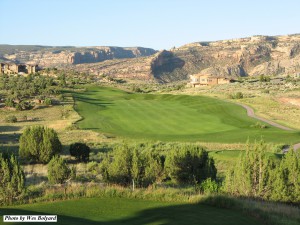 While Grand Junction may not be close to other golfing destinations in Colorado, it definitely shouldn't be overlooked because the Golf Club at Redlands Mesa has been ranked the No. 1 public course in that state.
Grand Junction is located on the western edge of Colorado in wine country, offering a longer golfing season than elsewhere in the state.
The Jim Engh-designed course offers awe-droppings vistas of the rocky red cliffs of the Colorado National Monument and Grand Mesa as it twists up and down hills. The 11 elevated tees make golfers think they are hitting it longer, but if they go up to the back of the par 3 16th tee, most will need a wood to get home.
On the par 5th, golfers play to a green perched on a rocky cliff, but then golfers playing from the right sets of tees have chances to get home in two on the back nine as I did with a hybrid from just inside 200 yards on the 12th, knocking in an seven-footer for an eagle.
On the next hole, I was almost taken down by a runaway golf cart driven down one of the hills, but somehow heard the warning from the other writer and managed to avoid being hit from behind.
Playing with this same writer a few years ago in LaPaz, Mexico, I collapsed after 36 holes in 100 degree heat from dehydration and had to spend the night in the hospital. Not his fault, of course.
One word of warning when playing Redlands Mesa, try to stay below the hole with approach shots. Otherwise, you'll have a lot of three putts. Plans are to reduce some of the knobs on the greens to not make them quite as severe.
If you want to make it a day of golf, a good value option is the public 18-hole Tiara Rado Golf Course, offering some up close views of the monument. The front 9 is very tight with "white stakes" and homes lining most of the fairways. An irrigation canal, not always noticed off the tee, adds to the challenge. A re-design of the back 9 gives it a totally different look with large trees putting the emphasis on accurate tee shots.
If you just remember to see where the Monument is located, you will have better luck with your putts and chips and realize the ball will not stop as quickly as you think.
Don't forget to save time to make the trek up to the Monument, home to 11 canyons and 20,000 acres of arched windows, rock spires and natural monoliths, even if hiking is not on your schedule.
Late summer is also the time for peaches and other fruits to be plentiful and our hostess surprised us with some home-made peach cobbler.
Less than an hour away in Delta is another unique course that I played on an earlier trip to western Colorado. It's called Devil's Pulpit, a desert-style or prairie links built on an ashen clay backdrop named the Adobe Hills, looking more like something you'd find on the surface of the moon.