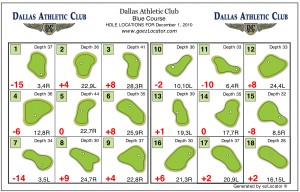 There may have been times where you might have walked off a green and asked, "What crazy person put the pin there?"  However, for the most part, we as golfers take for granted where the pins are placed on the greens except for the isolated cases where the hole cutter made a mistake and puts it on a ridge like mentioned above.
That's not the case for the game's best golfers, who are provided very accurate measurements at the top tournaments, or for superintendents, who have to manage and rotate the locations so that greens get even wear.
A few golf course superintendents have found the 21st Century solution to managing greens and hole locations, utilizing a new software system from a Texas-based company, ezLocator. The innovative technology-based program helps eliminate the shortcomings of labor intense systems like the quadrant or front, middle, back  currently being used and provides superintendents with an infinite number of pin locations with a click of the button. 
Dallas amateur Jon Schultz, a member at the Dallas Athletic Club, developed the system after chats with other members of his group in the 19th hole about how it seemed they always played the same pin positions and also after becoming more aware that all golfers wanted a "tournament like experience" every time they teed off in his capacity as a player, caddy and tournament chairman for some top events. A test program was conducted at DAC that evolved into a unique software application that is on the market today.
When a club decides to utilize ezLocator, Playbooks for Golf visits the course and identifies all the possible hole locations on every green. Using GPS technology, each one is mapped with correct pacing measurements. Then the data is uploaded into the ezLocator software.
Schultz then indicated the club was provided a custom-to-your-course "ezLocator Playbook" that guides the staff on exactly how to find the front of each green and how to properly pace off the location. "This laminated 'Playbook' offers on-site, instructional photos with green complex renderings that make the entire process streamlined and easy to use, " Schultz said.
Kevin Nettles, superintendent at DAC, is definitely an advocate of the system. "There's nothing like it on the market," Nettles said. "It minimizes negative comments from the members. It's internet based and I can easily show it to a member as long as I have access to a computer."
Nettles also noted that ezLocator makes the hole cutter's job a lot easier, eliminating possible hole placement errors. "I'm a little more at ease," he said.
James Beebe, superintendent at the Priddis Greens Golf & Country Club in Calgary, Canada, echoed Nettles' comments. "If the hole cutter happens to push the envelope and get too close to the edges, we would hear about it from our golfers," he said. "Such poor decisions can take away from the experience of playing the course. You can have 17 good ones and all that is noticed is one really bad location. Then when he was told about it, the hole cutter took a safer route and stayed closer to old ones. Now ezLocator has eliminated that risk. My assistant and I no longer have to micro-manage the task."
Beebe uses pre-assigned locations from the software program. "I do tweak them a little," he continued, pointing out that it still only takes up to an hour of his time each week to do it.
Nettles added that ezLocator allowed him to manage the greens from a stress point. "I can isolate certain areas of the greens when necessary," he added, noting that he could also save certain locations for special events.
Beebe also discovered that using the ezLocator improved the quality of the putting surfaces, reducing wear and tear in certain areas. "After locating the available pin placements on a green," Beebe said, "we discovered that because of their shapes that we might have less on the front and back and more in the middle. Under the old system, that meant more wear and tear back and front as we moved them every three days. Now this is spread out more evenly."
"It streamlines communications with the golf shop," Nettles said of the program that allows him to provide timely and professional looking pin sheets, showing the shape of a green, the exact location of the pin with measurements from the center as well as the front and side, that can be passed on to the players.
Lance Patterson, golf professional at DAC, says the documentation for the pin sheets is "second to none" and "similar to what you see on the PGA Tour."
Bobby Stringer, superintendent at Austin (TX) Country Club, agreed with his fellow superintendents about how ezLocator has helped with greens and hole management and saved him time. "The new on-line version is great," he said.
"We have small greens and the system has helped us not give our members the same old look," Springer said. "Accuracy is another benefit, especially after I trained my guys. Members are no longer saying that a pin location was off."
The members at Priddis Green like the system, too. "One mentioned that he had been playing for 25 years and knew all the breaks, but had to re-learn after we switched to ezLocator," Beebe said.
Preston Trail Golf Club members also like ezLocator, according to professional Cameron Doan. "Zero complaints," he said, noting how golfers might not see the same location for two months after ezLocator found 60 pin locations on the smallest green at the Dallas course.
Some of the other top clubs currently using the system include Dallas National Golf Club and Brook Hollow Golf Club in Dallas along with  Westchester Country Club, Rye, NY; Wade Hampton Golf Club, Cashiers, NC; Lost Dunes Golf Club, Bridgman, MI;  and St. George's Golf and Country Club, Toronto, Canada.