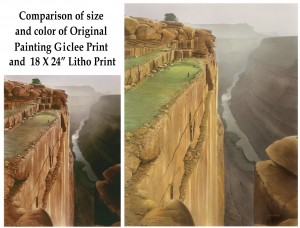 When I first saw golfer/artist Bud Chapman's imaginative painting "Victoria Falls Golf Club" 36 years ago when I was an assistant editor with Golf Digest Magazine, I was amazed. In the next four years, Chapman followed with additional paintings of imaginary holes that were to become the "Infamous 18." The others at the magazine were equally impressed and used Chapman's works in the publications during the 1970s. Art print posters were made available and were quickly added to the walls in the homes of many golfers.
Most of today's younger golfers have not had the privilege of seeing them, but this will soon change thanks to advancements in technology that have improved the four-color separation process, allowing Vlad Grivosky, a friend of Chapman, to bring the "Infamous 18" back on the market.
"The Gicleé printing productions has been able to produce true replicas of the original paintings," Grivosky said. "The difference in color is amazing. Bud's works were never sold as collectibles, but that is also changing as current plans call for a limited production of 5,000 sets that will be numbered and signed by Bud. This is the only edition that will ever be produced, making them true collectibles that will likely appreciate in value."
The Gicleé prints will be the same size (22.5" wide and 29.5" high) as the original paintings and will be on archival paper. The first 200 sets will have a Remarque done by Chapman, still active at age 89. All will be signed Loyal H. (Bud) Chapman. The cost will be $54,000 for a set of 18.
The first 200 sets, called the Southeast Asia Edition, will be introduced in conjunction with the 20th anniversary edition of jigsaw puzzles produced by Beverly Enterprises of Japan. Beverly sold the puzzles in the 1989-1990 time frame, generating $3 million in sales in Japan and Korea. New puzzles went on the market over there Nov. 11.
For the first 60 days, the 200 Southeast Asia Edition prints will be sold only to buyers with shipping addresses in Southeast Asia. Specific reservations, starting with No. 11 through No. 200 will require 25% down and the remainder prior to shipping. General reservations require 10% down and the remainder prior to shipping.
Interested collectors here in the United States and anywhere else in the world can make reservations after the 60-day period has expired. Earlier reservations will be accepted under the following conditions. If the 200 sets are not sold, then the reservations will be confirmed starting with the next number available in sequence. If the 200 sets are sold, those making reservations will be allowed to specify any available number from 201 to 5,000, which will be signed Loyal H. Chapman.
The contract price for buyers wishing to purchase the sets on a payment plan will be $63,000. A 10% down payment will be required. A print will be shipped every four months for a $3,500 payment plus shipping and handling. The final two prints will be shipped for a final $700 payment.
Go to www.tpkgolf.com to find out more.
Famed golf course architect Pete Dye believes Chapman made a great contribution to the game with his paintings. "Bud's innovative thinking certainly influenced many designers to make contours a little steeper and the bunkers a little deeper and generally to think outside the box with new designs, and, in that way," Dye noted.
Many think that Dye's 17th at TPC was modeled after Bud's Okfenokee Municipal Golf Course, showing an island green in a swamp.
A native of Minnesota, Chapman, began painting at an early age and played his first round of golf as a caddie at the age of 12 at Interlachen Country Club, the site where Bobby Jones finalized his grand slam.
During World War II, Chapman flew B-29s and created a comic strip called "Willie Washout". After his discharge from the service, he attended Walker Art School in Minneapolis, and later opened his own art studio, starting his career as a commercial artist.
As a scratch golfer, he has been a perennial champion as his own club, won several state tournaments and has participated in many USGA national amateur events. He holds a pilot license and is always seeking out adventure, whether it's fishing, hunting or searching for buried treasure.