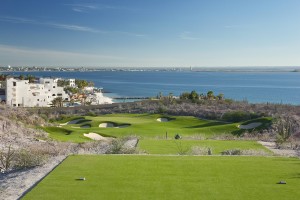 If you are looking for a change of pace from what can be a more hectic lifestyles at such luxury Mexico destinations as Acapulco, Puerta Vallarta, Cancun and Los Cabos, LaPaz might be viable option
La Paz, the capital of Baja California Sur, is truly a rare pearl in this fast-paced world. It's a place where vacationers come for an easy-going lifestyle that soothes the soul—as you might expect since "paz" translates into peace in English. It doesn't feel as touristy as its better-known Baja destination, Los Cabos, just over two and a half hours away. Home to more than 250,000 residents, LaPaz has all the amenities needed for a happy life. Situated at the gateway to the Sea of Cortez, called "the world's aquarium" by Jacques Cousteau, it offers spectacular sport fishing, scuba diving, snorkeling and other water sports on beautiful beaches that are great places to swim—unlike most of the ones at the tip of the peninsula. The malecon (boardwalk) offers a great place to view the beautiful sunsets and see the locals enjoying themselves after a day of work. It's sunny more than 340 days a year, with temperatures ranging from 75 to 95 degrees. Yes, it's hot in the summer.
What was missing? Golf resorts and communities with world class courses. Grass just didn't seem to grow here and water was in short supply, reportedly because the water wells were poorly managed and the region got less than four inches of rain annually. However, developers found the answer thanks to desalinization and the introduction of a less water-hungry turf called paspalum that was tolerant to salt and waste water. Once again, innovation makes the desert bloom.
CostaBaja Resort & Spa, sitting on a hillside east of town with breathtaking views of the Sea of Cortez, is definitely a hidden gem, deserving of its five-star recognition and worth a visit on its own merits. There is a marina and plenty of housing choices already available with condos and villas at Visa Mar and townhomes at Las Colinas. The 115-room hotel offers luxurious accommodations
Gary Player's first design in Mexico, which took three years to build, offers all the challenges that golfers want. I have to agree with Carl Rygg, the course manager with Troon Golf, who said, "Gary Player hit one out of the park here." Panoramic views of the deep blue sea are visible from 14 of the holes. Rygg also was pleased that Player's first design in Mexico was named the seventh best course in Mexico. Having played most of the courses in Los Cabos, it can definitely hold its own with most. Better yet, you can play more times as the green fees are lower.
CostaBaja is player friendly if a golfer will pick the right set of tees based on his ability level. You get the "wow" factor when you see your drives stay in the air and go forever on seven holes that play downhill. The biggest drop is 180 feet to the 14th fairway. It looks intimidating, but I Hit the fairway all three times and had chances for birdies on the par 5. Long hitters can get home or close on two short par 4s.
My only recommendation as an armchair architect is that consideration be given to moving what are the silver tees up to the turquoise tees since many golfers who play from the silver, count myself in the number, have trouble carrying their drives more than 215 yards to clear a series of cross bunkers.
One thing I did notice is that as might be expected from Player, there seemed to be more holes turning to the left, favoring a nice draw or a hook, his favorite shot. However, hook it or even slice it too much and you are in the desert, played like lateral hazards.
The only water on the course is a large lake on the par 3 8th where I would recommend hitting at least one or maybe two more clubs than you think as the wind seems to come around the townhomes into you more than it appears on the tee.
The ball sits up nicely on the paspalum in the fairways, but the same grass cut shorter on the greens does tend to be slower, especially if you happen to be ahead of the mowing crew. It doesn't take long to adapt to the speed, but it's wise to be sure to accelerate thru the ball on shorter putts.
CostaBaja is definitely a viable vacation option, especially for those on the West Coast, a two-hour flight from Los Angeles, but is a little harder to get there from other parts of the U.S. now until other flight options are forthcoming.
Many golfers like the idea of playing other courses on such trips and the two nearby options are Paraiso del Mar, located across the bay, and Bahia de los Suenos, 40 minutes south. The Arthur Hills-designed Paraiso del Mar is currently not in the best of shape as home owners battle to try and save the project. A better option worth the drive might be the Tom Doak-designed Bahia de los Suenos with summer green fees less than $100.