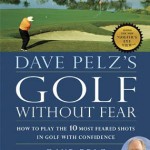 If you are like most golfers, there are certain shots that you stand over where from past experiences your mind perceives fear, anything from mild anxiety to stark terror. For me, it's those pitch shots from inside 40 yards or those downhill shots, especially over water.
There's no doubt that we can't play our best golf if we fear such shots, but renowned putting guru Dave Pelz offers us help to conquer these fears in his new book, "Dave Pelz's Golf Without Fear: How to Play the 10 Most Feared Shots in Golf with Confidence" by Dave Pelz with Eddie Pelz and Dave Allen (Gotham Books $40).
I've already picked up a few valuable putting tips after reading the book as my cousin Eldon Tarver will verify after a recent round where I needed only 24 putts, breaking 80 despite hitting only three greens in regulation.
When I asked Eldon what he thought might be the most feared shot in golf, he didn't hesitate at all: "Those short putts you expect to make." He was absolutely correct based on a survey of 10,000 golfers conducted by the Dave Pelz Institute. My two feared shots were included along with: greenside sand, tight lies, high and soft cut lobs, buried lies, hitting through trees, against wall and lag putt. Pelz does a great of describing what makes each of the 10 shots difficult with photos and accompanying descriptions to make sure that golfers understand them.
Pelz notes that to overcome fear you must condition your psyche to stop perceiving a shot as dangerous by learning how to hit the shot successfully and provides the methodology to do just that with step-by-step instructions and practice drills.
Proving the axiom that a picture is worth a 1,000 words, Pelz allows golfers to see in their "mind' eye" just how to play the shots. This is accomplished through the revolutionary "Golfer's-Eye View" images developed by renowned sports photographer Leonard Kamsler that show a golfer's body in relation to the target by first looking at the right-hand page to see how the ball, feet and stance should look and then tilting the left-hand page to see the target just as you would on the golf course.
As Pelz says, "Don't let fear hold you back." Pick up "Golf Without Fear" and join me in following  Pelz's signature "Fear Conquering System" as it will allow us to enjoy the game more.