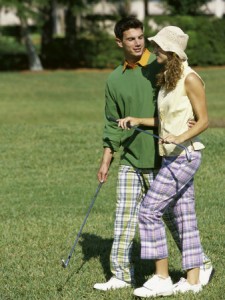 "I never have much fun playing golf with my husband," confided one 50-something woman as she shrugged her shoulders in the 'I give up' mode on the 5th tee of a charity scramble.
"Playing with my wife is……well, you know……kind of frustrating," admitted the aforementioned husband as he chop-sliced one out of bounds.  "Then, when I try to help her, she gets mad.  I don't understand her.  You'd think she would appreciate my advice since I've played the game so long."
Hmmmm, perhaps the fact that this fellow couldn't break 100 had something to do with his wife's inattentiveness toward her hubby's advice?
What is it about men and women playing golf together that so disrupts the normal, if there is such a thing, mentality?   Golf, like life, truly brings out the differences between men and women focusing on the same goal: mastery of a very complicated game.  Many men want to play the knight in shining armor and help the little lady, which is admirable  though a tad misguided.  The ladies might welcome the assistance if the gent was a top player, a great teacher, and…..a hunk.    Gentlemen, if you don't qualify on two out of three counts, simply play your own game and forget about hers, no matter how much you want to show her.  If she asks, be gentle and don't try to give too much information too soon.  Stick with basic fundamentals and you won't go wrong.  What…..you don't know basic fundamentals???
Now is the prime time for outings and golf events, many of which will involve mixed foursomes.  Here are some tips to survive the season:
For women:
– Thank well meaning men for their swing advice, then ignore it.  My father taught me that when I was 8 years old and the advice still stands.
– If you are the best golfer in the group, don't be afraid to take charge or at least be assertive about the group's playing strategy.
– Be bold.  Accept a bet within your group or another team.
– Don't be a wimp and moan about what a bad golfer you think you are.  They already know, and you're playing with them, right?
– Lighten up.  Don't take yourself too seriously;  loosen up and enjoy the humor of the day.  If the jokes get too harsh or seedy, walk away and practice your swing.  Don't be the spoil-sport or Pollyanna in the group because you may not get asked back again.  Or, tell some jokes of your own.
– Use serious golf balls.  Nothing against Paula Creamer, but please don't use pink golf balls no matter how much you like them, unless you don't care what people think – and what woman doesn't care about that?  The crystal balls are tolerable and actually kind of distinct, so use those instead if you like.   Pink tees are OK – I've seen men use them frequently.
– Memorize these words:  'Don't worry.  It'll play."
For men:
– Don't volunteer swing advice unless you are asked for it.  Ever.
– Do not comment on what an advantage the ladies have from the Forward Tees.  They don't want to hear it and likely need every bit of yardage the distance gap offers.  In fact, quite often it is not nearly enough.
– If your significant other or any other woman hits a crummy shot and you both know it, don't say 'nice shot, dear' just because it is airborne.  Women know when they've hit a terrible shot and do not want to be patronized.  Remember though, the 100-yard shot that does get airborne may just be that particular player's best shot.  You'll figure it out quickly enough.
– Do include women in strategic discussions in scrambles.  Let them know what you need them to do, even if it's simply getting the ball in play.
– If nature calls, please wait for a proper facility.  If you can't possibly wait, apologize to the ladies and go where they will absolutely not see you.
– Memorize these words: 'Don't worry.  It'll play."
Genderless:
– Never criticize or yell at your partner for hitting  a bad shot.  No one intentionally misses a short putt or tries to hit the ball into a lilac bush or water hazard.  It will be your turn soon enough and you'll appreciate the compassion.
– Don't agonize over a missed putt or botched shot.  Another one will certainly be right around the corner.  It's over.  Move on.
– No eyeball-rolling, head-shaking, loud sighs, or clucking.  Please.
– Do not call any rules unless you know what you are talking about and can prove it.  In a Scramble, it isn't likely any rules questions will come up, except for possibly teeing in front of the markers.  If you see that happening, it is OK to ask the person to tee up behind the tee markers.  Usually it is an honest mistake.  If you see flagrant etiquette violations, wait until after the round is over and discuss it then…..unless it is so bad it cannot wait.  Embarrassing someone is never correct.
– Don't remind him/her of the time he/she hit three balls into the water on the hole you're about to play.  He/She knows.
– Stay OFF of the cell phone.  If you must return an important call or text, go somewhere private where no one will see you.  And unless you're a doctor (or a musician like me who is always on call for funerals where an answer on my availability is needed immediately), you really can wait a couple hours to return calls.  After all, what did you do before cell phones?  You waited until you could get to a phone inside the clubhouse.
Following these guidelines should make for more enjoyable golf.  The game is difficult enough without complicating matters by forcing your playing partners to worry about doing everything exactly right all the time.  As I said to the ladies…….lighten up.  Have fun.